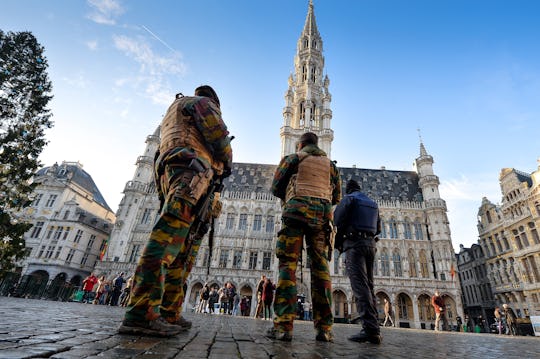 Dirk Waem/Getty Images
5 More Arrested In Belgium After Overnight Raids, But Salah Abdeslam Is Still Not One Of Them
Belgium continues to be on high alert for a possible terror attack, with overnight police raids in Brussels and Charleroi leading to five more arrests, bringing the total number of arrests in the country to 21. But authorities are still searching for Paris attack suspect Salah Abdeslam, who is believed to alive and on the run, possibly in Brussels. (Some reports even say Abdeslam has allegedly Skyped with friends while hiding from authorities.) The identities of those arrested this weekend have not been released to the public.
The country has been in a state of total lockdown over the weekend due to fears of an imminent terror threat, and universities, schools, and the metro all remained closed on Monday, according to the BBC. Authorities believe there is the potential for a Paris-like attack in the Belgian capital, and Prime Minister Charles Michel told reporters over the weekend that police fear that "several individuals...could also possibly launch several attacks at the same time in multiple locations" like they did in Paris. Usually-popular public spaces in the busy capital have been reported to be nearly empty, as people are heading police warnings to stay home for their own safety.
The BBC reports that another suspect who is thought have been involved in the attack of the Stade de France has arrived in Greece under the name M al-Mahmod. Police have released an image of the suspected attacker, hoping for more information on his whereabouts.
Mohammed Abdeslam, the brother of both Salah Abdeslam and Brahim Abdeslam (the latter of which was a suicide bomber in the Paris attacks), spoke on Belgian TV on Sunday, urging his brother to stop running and turn himself in. According to the BBC, Mohammed spoke on the Belgian public broadcast station RTBF, where he described Salah as "a very clever man." He added that he "[wants] Salah to surrender" in hopes that both his family and the victims' families might be able to get "the answers they've been looking for."
Three people have been charged so far by Belgian authorities due to their involvement in the Paris attacks.
Image: Dirk Waem/Getty Images