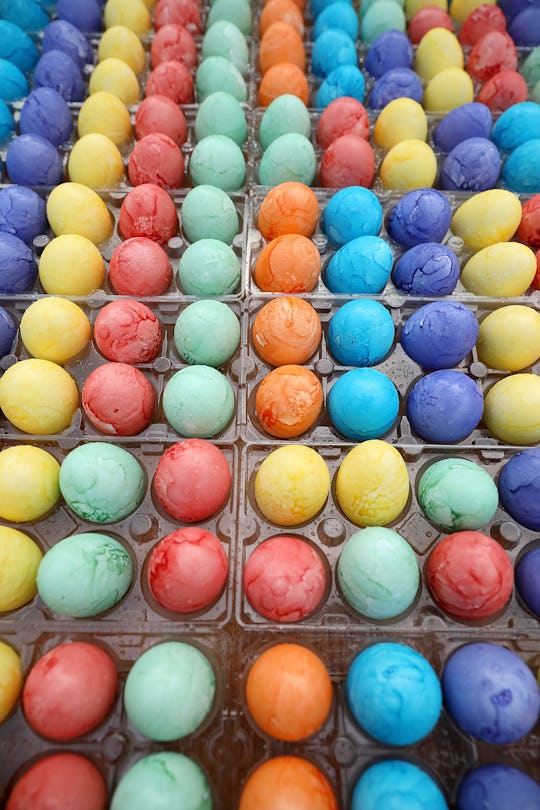 Chip Somodevilla/Getty Images News/Getty Images
5 Natural Easter Egg Dye Ideas Using Edible Ingredients That You Probably Already Have
One of my favorite memories from Easter last year was sitting around the kitchen table with my sister, my parents, and my toddler, and seeing that we were all equally excited about dying eggs (ok, maybe my dad was actually the most excited). It's just one of those activities that brings out both your inner artist and your inner child. And while it's pretty magical to see white eggs turn jewel-toned, it's easy to wonder if those dyes are actually safe — especially if you eat the eggs afterwards. That's why we've got 5 natural Easter egg dye ideas for you that are sure to stun.
Since becoming a mom, I've gone pretty full-blown natural, but for some reason it didn't even cross my mind to consider natural Easter egg dye options until I randomly came across this kit ($11, Amazon). Then the wheels in my head started turning, as I fearfully looked up what ingredients were in my go-to egg dye kits. Yellow 5, Yellow 6, and Red 3 food dyes are all known carcinogens according to the Center For Science In The Public Interest (CSPI), and they may very well be listed in the ingredients section of your dye kit. Plus, Yellow 5 and Yellow 6, along with Blue 1, and Red 40 (both also found in PAAS traditional egg dye), have been linked to allergic reactions in some people, explained CSPI.
But before you start going down a rabbit hole of worry, it's important to remember that you're dying the egg shells, not the part of the egg that you may eat (and you can keep hands protected with gloves) so all of this concern about egg dyes may be overblown, according to the American Council on Science and Health. It turns out that the biggest risk to your health is eating eggs (dyed or not) with cracked shells, because they're total bacteria traps.
Still, while my rational mind knows using store-bought Easter egg dye is probably just fine, the "chemophobe" in me is going all-natural from here on out. If you're the same, here are 5 natural dye ideas to try this Easter season. The best part —they use ingredients that can probably already be found in your kitchen and they make some seriously swoon-worthy eggs.