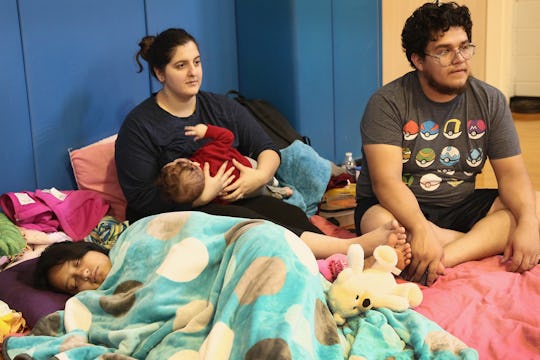 Scott Olson/Getty Images News/Getty Images
5 Organizations Helping Breastfeeding Moms After Harvey
Tropical Storm Harvey is not giving up just yet. After devastating parts of Texas, the storm is now making a landfall in Louisiana, meaning that more and more people will be displaced from their homes — including parents along with their children and infants. If you thought breastfeeding and parenting an infant was tough under normal conditions, imagine doing it in a shelter without any idea of when you would be able to start rebuilding your life. Luckily, people can help out by donating to organizations helping breastfeeding moms after Harvey in particular. Because, in a trying time like this, they definitely need it.
The Texas Department of Health and Human Services luckily has a lactation hotline that breastfeeding moms in need can call at 1-855-550-6667 to get breastfeeding help if they need it. It's a government agency, though, so you can't donate to it directly. But spreading the word can help, too. There are many organizations that you can donate to, though, so that supplies for families get to the people who need them the most.
According to research, stressful situations can affect a woman's milk supply and being in a shelter might mean that the mother is eating less and could possibly be dehydrated — all of which makes feeding a hungry baby more difficult.
Women who supplement with formula, or only formula-feed, might not have access to everything they need, including clean water. So if you're going to donate to help Harvey victims, these organizations that cater to mothers and children are the way to go. Here are some places to start.
Texas Diaper Bank
Don't be fooled by the name. While this organization does take diapers (even open packs!), it is also collecting breast pumps to distribute to victims. They can be new or slightly used. Bottles, formula, and blankets are also on their list of acceptable items. You can donate cash or send goods directly to them at: The Texas Diaper Bank 5415 Bandera Road Suite 504, San Antonio, TX 78238.
The Red Cross
Some outlets are urging others to not donate only to the American Red Cross — local relief efforts need funds, too — for Harvey victims, but the do provide necessary relief for families in need, and can provide safe space, and at least a blanket, to breastfeeding moms and their infants.
Save The Children
Save The Children is going all out to help victims — not just with supplies, but even creating safe, child-friendly spaces for kids to play at shelters while parents handle business. But they're also delivering "family friendly relief supplies," so a monetary donation will go towards getting moms what they need and keeping them safe.
South East Texas Food Bank
The South East Texas Food Bank won't necessarily assist a mom breastfeed, but it will take donations of baby food, formula, and cases of clean water. They're also accepting "personal hygiene"items like wipes, but if you wanted to send a breast pump or clean bottles their way, that likely counts.
You can send donations directly to: Southeast Texas Food Bank, P.O. Box 21012, Beaumont, TX 77720 or donate through their website.
Black Mothers Breastfeeding Association
The BMBFA isn't collecting breast pumps or anything for Harvey victims, but they do have a hotline for women to call if they need help. You can donate to the organization for its continued support of breastfeeding mothers all over the country.
If you want to help mothers feed their children during this disaster, food banks will accept clean water, formula, baby food, and personal hygiene items for Harvey victims. There's the Galveston Food Bank, the Corpus Christi Food Bank, or the Houston Food Bank. They can all use every bit if help they can get. Because even though Harvey will pass, these needs won't.