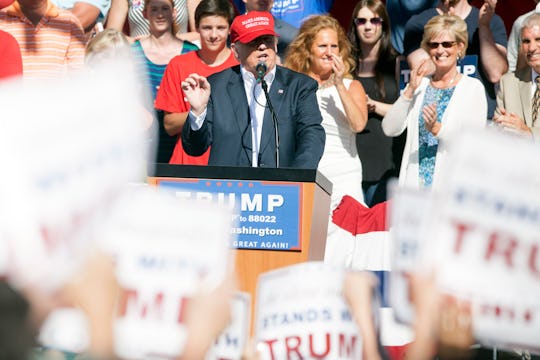 Matt Mills McKnight/Getty Images News/Getty Images
5 People Trump Could Choose As His Vice President Now That He's The Presumptive Nominee
Now that Donald Trump has all but won the nomination as Republican presidential candidate following Texas Sen. Ted Cruz and Ohio Gov. John Kasich's withdrawal from the race, speculation is ramping up about who the outspoken businessman might choose as a running mate. According to the Associated Press, Trump said Tuesday that he is actively considering possible choices for who his vice president could be, and that he will most likely opt for someone with extensive political experience. But since Trump is also no stranger to the unorthodox, it's likely too soon to cross anyone off the list entirely — unless, of course, they've already done so themselves. But from the sounds of it, there are probably at least five people Trump could choose as his vice president now that he's the presumptive nominee.
It's no secret that Trump has been a majorly polarizing figure throughout his campaign, and plenty of Republican leaders have criticized him along the way. Some of those Republicans still insist they would never align themselves with a Trump presidency (oh hey, South Carolina Sen. Lindsey Graham!), but now that his name will almost certainly be on the ticket, the remaining big names in the GOP seem to fall into two camps: those who aren't interested in being VP, and those who are totally open to the idea. While it's still anyone's guess who Trump will actually pick when he makes the official announcement at the Republican National Convention in July, it's not impossible to speculate.
1. Ohio Gov. John Kasich
On the surface, Kasich seems like an unlikely choice, seeing as he was the last to drop out of the race against Trump and is probably not very pleased about losing. But there are also some important reasons why he'd also be a great choice.
Firstly, Trump has been upfront about the specific role he intends on his VP taking. He wants someone with strong-political know-how to advise him and fill in the gaps of his own background, which is decidedly not political. And, according to CNBC, Trump also said there was "a 40 percent chance" that his running mate would be one of the people he ran against for the nomination. But although Trump has said that he'd be "very interested" in considering Kasich for the job, according to BBC News, Kasich himself isn't quite as into the idea. According to the New York Times, while Kasich was still running against Trump, his spokesperson Chris Schrimpf, said there was "no chance" the governor would be open to the idea of ever being Trump's running mate. Perhaps he'll change his mind by July?
2. Alabama Sen. Jeff Sessions
Unlike Kasich, Alabama Sen. Jeff Sessions not only has the political background to be a suitable VP, but he also just really seems to like Donald Trump. When Trump was asked about Sessions' potential as a running mate, Trump said that he thought he'd make a "good anything," according to CNBC, which suggests he's being held in pretty high regard by Trump at the moment. And the feeling is mutual: according to BBC News, Sessions was one of the first Republican senators to endorse Trump for the GOP nomination and has become one of the Trump campaign's top foreign policy advisors.
But despite being a seemingly great candidate, Sessions is playing coy about his suitability. According to The Hill, he told reporters back in April that he hadn't spoken with Trump about the possibility, and that they shouldn't "bet any money" on him.
3. New Jersey Gov. Chris Christie
On the surface, New Jersey Gov. Chris Christie seems like a bit of a questionable choice for VP — after all, it sounds like Trump wants someone with different strengths from him who will balance out the ticket, and, as the Washington Post noted, Trump and Christie actually have a lot in common "personality-wise." But according to BBC News, Christie was "one of the first mainstream Republican politicians on the Trump Train" when he endorsed Trump in March, and according to CNBC, he has already appointed Christie as the head of his "White House transition team," so clearly Trump finds him capable.
So how does Christie feel about the potential to be Trump's running mate? According to CBS News, Christie isn't saying no. When asked about his potential as VP, he said, "I haven't been offered any position and I don't speculate on those things."
4. Florida Gov. Rick Scott
Florida Gov. Rick Scott also seems like a pretty likely choice to at least make Trump's short-list. According to BBC News, like Trump, Scott was a business man who entered into right-wing politics (he is a Tea Party darling), and, like Trump, well, Scott thinks Trump deserves to be president.
In a Facebook post back in April, Scott called for the end of the "Stop Trump" movement, saying that the wishes of the voters deserves to be respected:
Republicans now need to come together. Donald Trump is going to be our nominee, and he is going to be on the ballot as the Republican candidate for President. The Republican leaders in Washington did not choose him, but the Republican voters across America did choose him. The voters have spoken.
Not only do Scott and Trump seem to be a logical match, but as the governor of a major swing state, having Scott on the ticket could be a wise move for Trump. But if he intends to say yes to being VP, Scott isn't letting on. When asked about his interest in seeing his name on the Trump ticket, Scott told CNN,
Well, I predict Donald's going to have a big win, [but] I like my job. I worked hard to get this job. I'm going to stay in this job.
5. Ben Carson
Could Ben Carson realistically be picked at Trump's running mate? The same Ben Carson Trump once insinuated was akin to a child molester? It seems like he should be a long shot, but Trump and Carson have buried the hatchet over the past months, with the retired neurosurgeon going as far as endorsing Trump for president. And Trump responded in kind, with Trump offering Carson an advisory position on his campaign, according to BBC News.
Carson has said in the past that he'd consider being Trump's running mate if Trump asked, but Carson has since gone on record saying that he's not interested in seeing his own name on the ticket, according to CNN. Might he change his mind again? According to The Hill, Carson is no longer part of the VP vetting committee for Trump's VP — perhaps he wants a chance to be considered himself?
Perhaps the most important thing to keep in mind, though, when considering who might join Trump in his quest to win the White House, is that pretty much anything is possible. After all, the possibility of a Trump presidency once seemed laughable. And now, as the discussion about vice presidents heats up, it's clear that it's actually a very real possibility.