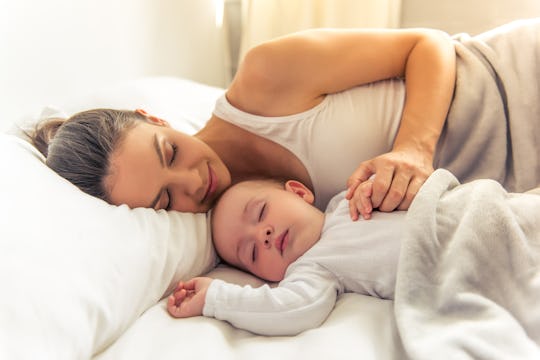 Shutterstock
5 Questions Co-Sleeping Parents Are Tired of Hearing (And Answers, Hopefully For The Last Time)
I'm pretty sure there's a cosmic rule in parenting: If you preface any statement with "I will never, ever, ever…" before you actually have children, your chances of doing that thing increase exponentially. I had a feeling this was the case when I was pregnant, and by that I mean enough parents told me "never say never" and I had enough sense to believe them. So I kept my "never ever ever" list to a minimum: I only had two. The first was "I will never, ever, ever spank my children." (So far, so good there.) The second was "I will never, ever, ever co-sleep with my children." That one has failed spectacularly. Like, really and truly gone down in flames. 
There are a couple definitions of co-sleep here, so I feel like I should clarify: Some people define co-sleeping as keeping the baby in your room with you in their own sleeping area; a crib or a bassinet, for example. Some people define co-sleeping as attaching a separate sleeping surface to your own bed so that the baby is directly beside you, but still in his own little bed. But when I talk about co-sleeping, I use it interchangeably with "bed sharing," where your baby sleeps in the same bed as you. OK, now we're all on the same page.
Anyone who has ever visited a message board or online group for pregnant women or new moms could tell you that this is a particularly contentious debate. (Of course, what subject isn't a contentious debate on the Internet, especially on mom boards, right?) Some people speak in praise of co-sleeping benefits, including better sleep for mother and baby, its role in encouraging breastfeeding, and even new research that suggests that co-sleeping helps protect against SIDS. Others will tout the importance of encouraging independence from day one, maintaining a separate space where parents can be by themselves, and associated risks posed to the infant while co-sleeping, both physical and emotional (more on that in a bit). 
I used to be in the second camp. Like, vociferously in the second camp. I was convinced that the only people who co-slept were hippies who used their babies as crutches for their own weird emotional issues. (I didn't say I was particularly nice about being in the second camp.) Then I had a baby, and I figured out I could sleep waaaaaaaaay better if I just brought him into bed with me. Then I realized, "Oh. This is why people do it." Of course, that realization came with a little bonus of ,"Aww. It's nice to cuddle up with a baby." So that's how I became a co-sleeping mom.
I kept it to myself at first, but eventually word got out and I found myself answering a whole lot of misguided questions (which is definitely karma for what an a**hole I had been about the subject in the past).