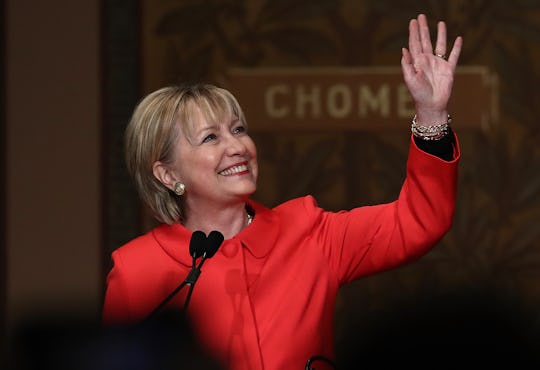 Win McNamee/Getty Images News/Getty Images
5 Quotes From Hillary Clinton's Georgetown Speech
She's ba-a-ack! For those who are #StillWithHer, former Democratic presidential candidate Hillary Clinton's appearance at the Georgetown Institute for Women, Peace and Security on Friday was a reassuring sight. The former secretary of state was there to give four Colombians awards for their admirable efforts toward ending conflict in their home country, but at the end of the day, Clinton's Georgetown speech easily stole the show.
Clinton was there for Georgetown's annual Hillary Rodham Clinton awards ceremony, where every year, distinguished guests are recognized for "exceptional leadership in recognizing the important role of women in creating a more peaceful and secure world," according to Georgetown University. Clinton's speech this year included a nod to both women and diplomacy.
During her remarks, Clinton zeroed in on the potential effects of the Trump administration's proposed cuts to global health and development initiatives, and she highlighted the role women play in diplomacy and peacekeeping. She also included a zinger presumably aimed at President Donald Trump that made supporters want to laugh, then cry. (A reaction many Americans have had to many pieces of news these days, actually.) Here are a few of Clinton's most powerful statements at Georgetown.
On Women's Rights
"Advancing the rights and full participation of women and girls is the great, unfinished business of the 21st century," Clinton told the crowd at Georgetown on Wednesday, according to Time. She continued:
It's not only the right and moral goal for us to be pursuing ... but — and this is what I want to really impress upon you — this is strategic and necessary for matters of peace, prosperity and security. ... A rising tide of women's rights lifts entire nations.
On The Current Administration's "Alternative Facts"
When speaking about women's peacekeeping skills, Clinton delivered a subtle jab at White House Counselor Kellyanne Conway's "alternative facts" controversy: "Now, before anybody jumps to any conclusions, I will state, clearly, women are not inherently more peaceful than men. That is a stereotype. That belongs in the alternative" — here, Clinton paused — "reality."
At a different point, she chuckled and said, "Here I go again, talking about research, evidence, and facts."
On The Role Of Women In Peacekeeping
Clinton also spoke of women's proven ability to get things done when it comes to peacekeeping. "When women are included in peace negotiations, agreements are less likely to fail and more likely to last," Clinton said. She continued, according to Fortune:
We also know that women are often the first to spot conflict on the horizon, coming their way. And when their insight and information is ignored, it often leads to consequences that might have been averted. ... Evidence suggests leaders who want to do more to guard against terrorism and violence should work even harder to help support and enable the participation of women.
On The United States' Role Abroad
"This administration's proposed cuts to international health, development and diplomacy would be a blow to women and children and a grave mistake for our country," she said, adding, according to Fortune:
I am pleading that our government will continue its leadership role on behalf of peace in the world because the world must continue this work with or without U.S. involvement. ... We have to ask, will we be left behind or will we continue to lead the way?
On Women's Role In Building A Peaceful World
"If we are to build more just, free and peaceful countries and indeed a world, it's not enough just to pay lip service to empowering women," Clinton finished, according to Fortune. "We have to take seriously their concerns and give them the tools to be equal partners in helping to shape the world they inhabit."
Clinton may not have shattered the glass ceiling herself, but she is clearly intent on doing her best to better women's rights around the world. Her run for the presidency in 2016 inspired more women to step into the political arena and become more involved in activism — but that's clearly not enough for Clinton, and she's definitely not done giving other women a hand.