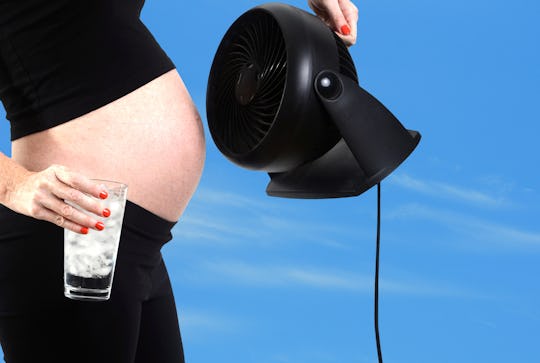 Beth Swanson/Shutterstock
Your Pregnancy Sweats, Explained
If there's a group of people that generally dreads summer more than any other, it's got to be pregnant women. Expecting mamas tend to be overheated no matter what time of year it is, and the heat and humidity of summer make the problem even worse. Though being hot and sweaty during pregnancy isn't fun, it is super common. There are a bunch of different reasons for your pregnancy sweats, which are totally normal and rarely anything to worry about— though I do suggest keeping you a stick of deodorant on you at all times.
As a currently pregnant mom myself, whose third trimester just happens to overlap almost perfectly with summer (just my luck), I know how icky and uncomfortable the pregnancy sweats are. I'm not thrilled about the rising temperatures, but I do have a survival plan that can totally work for you, too: lots of loose, flowing cotton clothing, always having a big glass of ice water on hand, and of course, parking my pregnant butt indoors in front of the air-conditioning as much as I possibly can.
Here are five non-weather related reasons you might be sweating up a storm this summer, including one that you may need to talk to your doctor about.