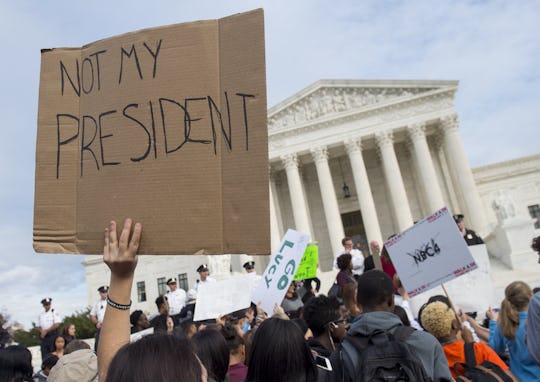 SAUL LOEB/AFP/Getty Images
5 Reasons To End The Electoral College, Because It Truly Affects Everyone
States looking to lessen the gap between their own votes and the national popular vote have pointed to the National Popular Vote Interstate Compact as a solution. Adopting the Compact means that all of a state's votes would be counted in accordance with how the national popular vote shakes out. This effort comes as a response to some of the many reasons to end the Electoral College. With Hillary Clinton winning the popular vote by more than 2.8 million, it seems, at the very least, incongruous that these winning numbers would translate to a mere 232 electoral votes against President-elect Donald Trump's 306 electoral votes.
Even if the whole "faithless" or "Hamilton" electors thing doesn't work out, the Compact still wouldn't be this election's solution. Think of it more as a preventative measure should a future national and state vote yield a similar discrepancy. The Compact requires 270 electoral votes from supportive states in order to be passed. As of now, it has 10 states and the District of Columbia, totaling 165 electoral votes.
Whereas the Compact couldn't stop a Trump presidency this time around, it could abolish the Electoral College — an institution that, to so many, feels like an obstruction of democracy rather than a defense of it. Below are five important reasons as to why the Electoral College should be ended.