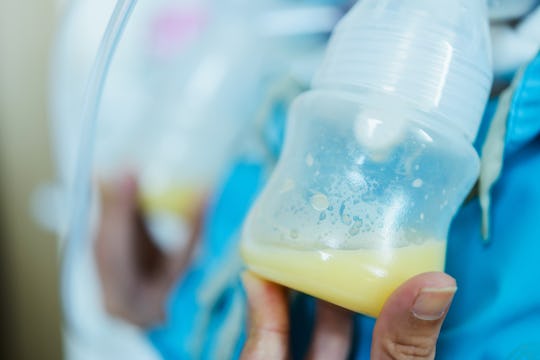 aengza001/Fotolia
5 Reasons Your Breast Milk Is A Different Color, According To Science
A mother's body is incredible, capable of extraordinary things in order to accommodate a new baby. Breast milk, for instance, provides all the nutrients your infant needs for the first six months of his or her life. And while formula babies can (and do!) receive similar benefits, breast milk has the ability to change in composition according to, and in anticipation of, your baby's specific needs. So, as you can probably imagine, there are more than a few reasons why your breast milk is a different in color, according to science. The changes may be subtle, but they're part of a role your body plays in sustaining, and nurturing, your growing infant.
According to a 2013 study published in Clinical and Translational Immunology, colostrum — the nutrient dense super milk your body first produces during pregnancy — can and usually does spike if there's any signs of possible illness threatening either you or your baby. In other worse, this "spike" is a natural defense mechanism. Likewise, your colostrum changes throughout the course of pregnancy, birth, and beyond. For example, it may be yellowish, creamy in color, and thicker than the milk your body makes later in your breastfeeding journey and as your breast milk naturally thins over time.
The American Pregnancy Association (APA) reported that, typically, colostrum is replaced by transitional milk two to four days after birth. That's why, among many other reasons, colostrum reappearing at a time when you or baby show signs of illness is a pretty damn incredible occurrence. And if you think that's amazing, here are some other reasons your breast milk may differ in color, according to science.