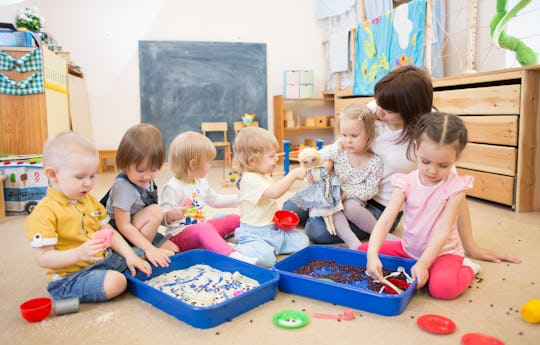 Andrey Kuzmin/Fotolia
5 Red Flags Your Day Care Isn't Taking Enough Precautions Against The Flu
This week, the Centers for Disease Control and Prevention (CDC) reported 30 pediatric deaths nationwide resulting from this year's flu — and there are still weeks left of flu season ahead. For the millions of families that send their children to day care, that's a long time to worry about your child taking ill. The good news is that day care centers can fight the flu if they follow a few key guidelines. The bad news? Not every center is up to scratch. Look out for these five red flags your day care isn't taking enough precautions against the flu.
"In general, flu preys on the very young and the very old," explains Dr. Amesh Adalja, a senior scholar at the Johns Hopkins University Center for Health Security, in an interview with Romper. "In this season, you are seeing increased activity in children, who are particularly prone to influenza." H3N2, known to be severe, is the dominant strain across the U.S. In addition, H3 viruses particularly impact children under 5 and adults over 50, reported The Syracuse-Post Standard.
As CDC director Brenda Fitzgerald told The Syracuse-Post Standard, the best way to prevent the flu is to get a flu shot. It's by no means too late to get vaccinated at your doctor's office or local drugstore. But while vaccination is the best defense, children under 6 months old don't have that option. For that reason, keeping a baby home — especially if they have any underlying conditions — might be your best bet.
"If there was a year to minimize your dependence on day care this would be it. It is almost impossible to keep fast moving viruses like the flu out of day cares," explains Dr. Ian Tong, M.D., the Chief Medical Officer of Doctor On Demand, in an interview with Romper. If you notice center employees or other children falling ill, he suggests calling grandma and grandpa for an impromptu visit to keep younger kids from contracting a potentially dangerous case of the flu.