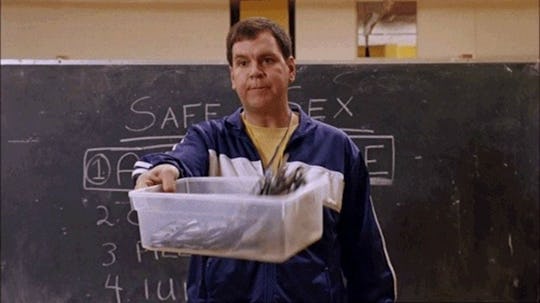 5 Sex Myths You Learned In A '90s Health Class That Should Be Set Straight
In middle school and high school you received sex education, and what that meant exactly varied greatly from school to school, even teacher to teacher. And because there is no oversight on the curriculum being taught a result, you were probably exposed to many sex myths from health class. Which is a huge problem not only for your 13-year-old self, but your adult-self as well.
Teenagers are vulnerable to taking in a myth as an absolute truth, in part because they may have no other avenue of information on sex, and in part because they have been indoctrinated to believe everything they are taught in school. It's often not until college that some kids realize there are different angles of the truth and that school teaches only the chosen angle. When a teacher stands before the class and dismisses contraception questions, citing they are not allowed to answer those kinds of questions in a sex ed classroom, it's a powerful message to kids. What it says depends on who is listening, but to my thirteen year old daughter, the message was that if you choose to have sex, you won't get any help from the adults around you on how to do it responsibly or safely. Meanwhile, the United States continues to have the highest teen birth rate of any of the world's developed nations.
Myths about human sexuality can be presented as improper statistics, facts, or simply the removal of crucial information. Below are some of the most common sexual myths that you probably learned in your '90s health class and , unfortunately, may still be propagated today.