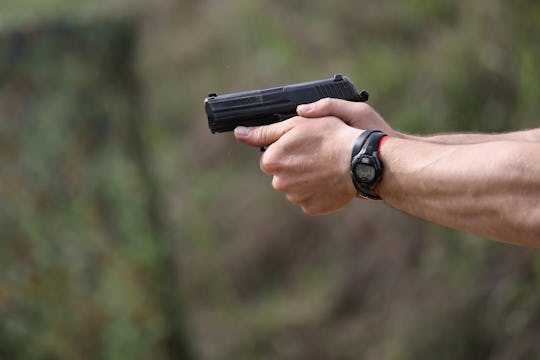 John Moore/Getty Images News/Getty Images
Domestic Violence Is All Too Common In Mass Shooters
On Wednesday morning, a man shot at Republican members of Congress during practice for their annual baseball game in Alexandria, Virginia. The man was killed by police officers quickly, but the investigation into the attack is ongoing. One concern about the Alexandria shooter that several outlets are reporting on in the aftermath is the fact that he had a previous history of domestic violence. And what's worse is that that's not uncommon for perpetrators of these attacks — and it's time that we talk about the many mass shooters who had a history of domestic violence, because so many of those who have committed these heinous attacks in recent years are connected by that common thread.
According to CBS News, the Federal Bureau of Investigation recovered two weapons from the attack on Wednesday — a 9mm handgun, and a 7.62-caliber rifle. CBS News also found out that they were legally purchased by the Alexandria shooter — despite the fact that he reportedly had a history of domestic violence, according to The New Yorker.
Outlets such as The New York Times, Rolling Stone, and New York Magazine's The Cut, as well as the organization Everytown for Gun Safety, have reported on the correlation between gun violence and domestic abuse in the past. So why hasn't more been done to prevent attacks like the one in Alexandria?
In 2016, Rebecca Traister wrote an article for The Cut linking several recent mass murderers to domestic violence. She started out considering the case of the Bastille Day terrorist in France - who had a criminal record of domestic violence. And she made the very important link between the 2016 Nice attack and domestic violence.
As she wrote, adding Mohamed Lahouaiej Bouhlel to the long list of recent terrorist attacks put that particular individual, "in the horrific company of many mass murderers," who have all allegedly committed domestic abuse in their pasts.
Pulse Nightclub Tragedy
The shooter in the Pulse nightclub attack, Omar Mateen, had an extensive history of domestic abuse, Traister wrote. His former wife claimed that he would take her paychecks, and forbid her from leaving the house. Her husband also beat her if she didn't "live up to traditional wifely responsibilities."
Rolling Stone also reported that the Pulse nightclub shooter held his wife hostage, but was never held accountable for his actions. "Perhaps it's time," Soraya Chemaly wrote, "our society started to think of physical abuse, possessiveness and men's entitlement to act in those ways toward women as terroristic, violent and radical."
Colorado Springs Planned Parenthood Shooting
The man who killed three people and wounded nine others at a Colorado Springs Planned Parenthood clinic in November 2015, Robert Lewis Dear, allegedly had a history of violence against women, as well. He admitted to the shooting, according to Rewire, but Dear was recently found not legally competent to stand trial. According to the Colorado Springs Gazette, he was charged with 179 counts related to the shooting, and has been held at the Colorado State Mental Health Institute at Pueblo since May 2016, when judge Gilbert Martinez first decided Dear was legally incompetent to proceed.
According to The Daily Mail, the Planned Parenthood attacker had a 1992 arrest for rape and sexual violence on record. Two of his three ex-wives had previously accused him of domestic abuse. In the case of the sexual assault, however, the Washington Post reported there is no record of a conviction, which indicated that the case was likely dismissed. A representative for Dear did not immediately respond to Romper's request for comment regarding the domestic violence allegations and the sexual assault allegation.
But there are records regarding how he treated his second wife, Barbara Micheau. In a 1993 divorce affidavit, the Post reported that Micheau said her husband threw her around a room by her hair and beat her head against the ground in at least one instance. In the affidavit, she stated that he "erupts into fury in a matter of seconds."
Despite all of that, he was able to legally purchase a weapon, — in spite of his history of domestic violence — walk into a Planned Parenthood clinic, hold several innocent individuals hostage, and ultimately kill three people. Take a moment to consider how outrageous that is.
Morgantown Shooting
Let's take a look at some numbers real quick. According to Everytown for Gun Safety, an organization dedicated to analyzing and reducing gun violence, "the majority of mass shootings in the United States are related to domestic or family violence." To arrive at this conclusion, Everytown analyzed every mass shooting it could identify in the United States from 2009-2016. It found that 54 percent of mass shootings were related to domestic or family violence.
So, a majority of the time, the attacks that mass shooters carry out are related to domestic violence — and, according to Everytown, in nearly half of the shootings, the shooter showed warning signs before the shooting that included "acts, attempted acts, or threats of violence towards oneself or others; violations of protective orders; or evidence of ongoing substance abuse."
When it comes to those warning signs, Everytown considered the case of a convicted felon, Jody Lee Hunt, who killed four people on Dec. 1, 2014 in Morgantown, West Virginia with a firearm. Using the same gun, he then shot and killed himself. Everytown noted that 15 years before the shooting, Hunt had been convicted of felony kidnapping and sentenced to 10 years in prison, because he abducted a former girlfriend and held her hostage at gunpoint. He was able to buy the gun he used in the attack via a sale on Facebook. Because, chillingly, federal law does not require universal background checks in regards to private sales.
Fort Laurderdale-Hollywood International Airport Attack & San Bernadino School Shooting
ThinkProgress laid out numerous other examples of mass shooters with a history of violence against women. For example, the man who allegedly killed five people at Fort Laurderdale-Hollywood International Airport, Esteban Santiago, had allegations of domestic violence on his record, and was arrested in 2016 for attacking his girlfriend. Santiago pleaded not guilty to a 22-count indictment for the Jan. 6 shooting, according to the Sun Sentinel, and the Miami Herald reported that he's been charged with emptying 14 rounds of ammunition in the attack in a baggage claim area, in an incident in which he also allegedly injured six others. His trial is set for January 2017, according to the Sun Sentinel.
Then there's Cedric Anderson, who, in April 2017, orchestrated an attack at an elementary school in San Bernardino, California. The shooter in that case reportedly had a history of domestic abuse arrests, according to the Los Angeles Times. Police Chief Jarrod Burguan reportedly told that publication that the San Bernadino school shooter had a criminal history that included arrests for weapons and drug possession, plus domestic violence. But according to Heavy, Anderson was never convicted, and Burguan said he was not able to provide specifics about those particular cases.
The San Bernadino school shooter reportedly went to the school because his wife worked there, according to ThinkProgress, and his intended victim was his spouse. But he killed one of her 8-year-old students, too. According to the New York Daily News, the San Bernadino shooter turned the gun on himself after he shot other victims, and died.
So why do all these perpetrators of mass shootings who have a history of domestic violence have access to firearms? For starters, according to ThinkProgress, a Government Accountability Office report in 2016 found that "it takes the FBI longer to complete background checks for domestic violence convictions than for other prohibitors." The outlet noted that delayed denials make it easier for people convicted of domestic violence to obtain guns.
Jane Mayer wrote in The New Yorker that, of course, not every person accused of domestic violence becomes a mass shooter. "But it's clear," she wrote, "that an alarming number of those who have been accused of domestic abuse pose serious and often a lethal threats, not just to their intimate partners but to society at large."
There are too many recent cases of mass shootings that involve attackers with a history of domestic abuse. It's undeniably time that we tighten regulations on who can get access to firearms, and take violence against women more seriously as a society — especially when we have evidence that those who have committed this violence can so easily become a threat to others as well.