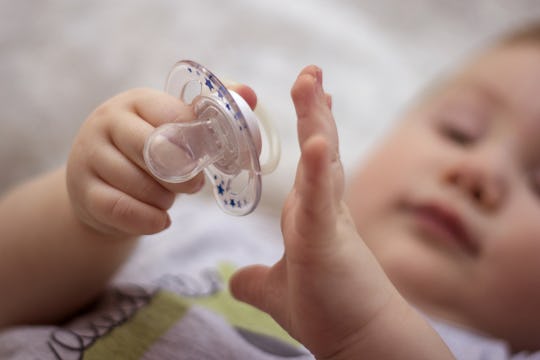 Anastassiya/Fotolia
Wondering When To Toss The Pacifier? Here Are 5 Signs It's Officially Time
For such a small piece of plastic, a pacifier sure can stir up a lot of controversy. Parents wonder about a binky's effect on their children's teeth, emotional development, and speech — not to mention the judgment of other parents. As Junior toddles around the grocery store with binky in hand, many ask, how old is too old for plastic pacification? Romper reached out to a dentist and a pediatrician to identify these five signs it's time to give up the pacifier, challenging as it may be.
But before I get to the signs your baby or child is ready for this change, know that doctors don't see much in the way of benefits from pacifiers after the 6-month mark. According to Parenting, between 6 to 9 months is the best time to wean your child off their pacifier. It might sound strict — I mean, what parent doesn't wish they had a binky to pass back on a long car ride? — but it makes a lot of sense.
As Rebecca Dixon, MD, of Riley Hospital for Children and Indiana University Health explains in an interview with Romper, there's a "window of opportunity" when it comes to pacifiers. First, you'll want to wait to start using one until breastfeeding has been established, says Dixon, which can take from four to six weeks. After that, a pacifier might even protect your baby to some extent: studies show they're protective against Sudden Infant Death Syndrome (SIDS). However, after the 6-month mark, your child's risk of SIDS falls dramatically — and so do the benefits of pacifier use.
"The protective measures aren't there, and the longer you wait to get rid of the pacifier, the harder it is," says Dixon.
Truer words were never spoken.