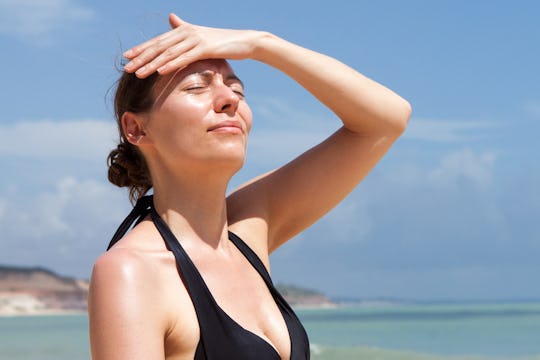 Adam Gregor/Fotolia
5 Signs Of Sun Poisoning, Since It's Not The Same Thing As Sunburn
With summertime in full swing, it's more important than ever to be cautious when you or your kids spend time outside. Aside from bug bites, cuts and scrapes, water related dangers, and all the other summertime "hazards," there is one potential danger that never really goes away — well, except at night. Spending prolonged time in the sun without proper protection can be dangerous, and not just because of the potential of sunburn. Sun poisoning is another summer hazard that many people aren't aware of. However, there are some easily recognizable signs of sun poisoning that distinguish the sickness from a regular sunburn to make it easier for parents, or frequent sun-goers, to spot.
According to Mayo Clinic, though there are several different types of sun poisoning, the most common variation is called polymorphic light eruption, or simply sun allergy. This type of sun poisoning is easily treatable, and usually disappears on its own. But in certain cases, medical attention may be required.
Though it's easy to confuse with a sunburn, the two are actually very different, and if not treated properly, have very different consequences. Knowing the signs can save you (or a loved one) from a painful encounter with the sun and help you know what to do to stay safe next time.