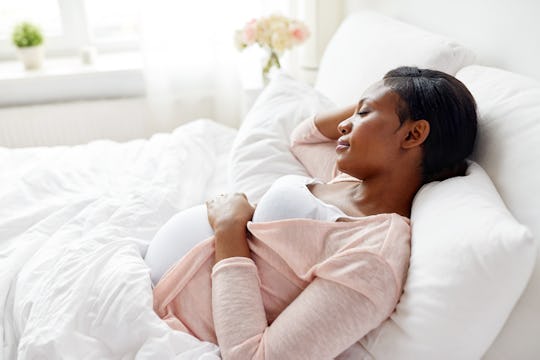 Syda Productions/Fotolia
5 Signs That You're Likely To Have A High-Risk Pregnancy, According To Experts
High-risk pregnancies account for less than 10 percent of the total, but chances are you know someone who has experienced a high-risk pregnancy. You may even be in this situation yourself. While the label "high-risk" sounds scary, it doesn't mean something bad is guaranteed to happen to you or your baby. It does mean you'll have to see your doctor more frequently and take other precautions to minimize risk though. Knowing the signs that you're likely to have a high-risk pregnancy and what that means can help you with your own experience or help you support a friend or family member.
According to Michael Haydon, Medical Director of Obstetrics, Perinatology & Maternal Fetal Medicine at MemorialCare Saddleback Medical Center in California, "Pregnancies can be considered high-risk for a variety of reasons." He tells Romper over email that age is a common reason for the high-risk label. Pregnant women older than 35 may see "increased risk of Down syndrome" and "many medical conditions arise in women in their late 30s including diabetes, high blood pressure, and thyroid disease." Beyond the age of the mother, a pregnancy could be labeled high-risk due to "multiple gestations such as twins and triplets" and "babies identified by ultrasound with complications (i.e., spina bifida, cleft lip or cardiac defects)."
Michael Nageotte, Associate Chief Medical Officer at Miller Children's & Women's Hospital in California and a nationally recognized perinatologist specializing in high-risk pregnancies, tells Romper over email that "While 'high risk' is a bit of a nebulous term and has no specific definition, generally it applies to pregnancies with certain maternal, fetal, or past history issues." Nageotte mentions the same factors as Hayden including maternal age and medical conditions, multiple gestations, and fetal issues. He also emphasizes a mother's medical and pregnancy history as the most important indicator for high-risk pregnancies. Now that you know what a high-risk pregnancy is, here are five common signs that make it more likely you'll have one.