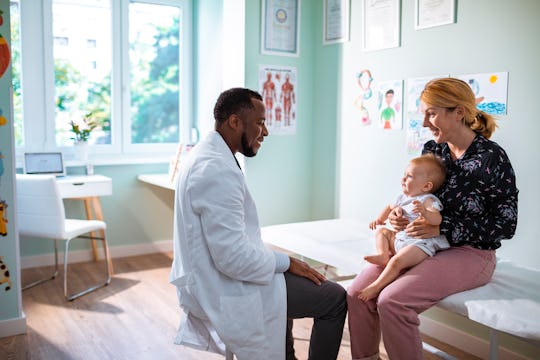 Geber86/E+/Getty Images
5 Signs You Should Get Your Child's Cradle Cap Checked Out
Cradle cap may sound scary but it's actually a generally harmless skin condition that is very common among babies. Although it doesn't usually get this bad, paying attention to the signs you should get your child's cradle cap checked out by a doctor will ensure that it stays as harmless as possible. According to Baby Center, cradle cap (or infantile seborrheic dermatitis) is essentially dandruff in babies. It will present itself as dry, flaky skin on your baby's head, and perhaps onto their neck, ears or other creases, but shouldn't cause discomfort and usually disappears on its own.
Before taking your child in to have their cradle cap examined, there are a few at home remedies that have been useful in clearing up the condition's sometimes frustrating appearance. The Mayo Clinic suggested gently massaging your baby's scalp with a wet washcloth before and after shampooing with a mild, scent free shampoo, or massaging castor or coconut oil into your baby's scalp and letting it soak in before rubbing it off. This may help the skin to gently flake off. Similarly, try not to over-wash your baby's skin. They have sensitive skin as it is an washing them every day or even every other day may prove to dry your child's skin out more than anything.
And if these home remedies don't clear up the condition, keep a look at for these signs that your child's cradle cap needs to be examined.