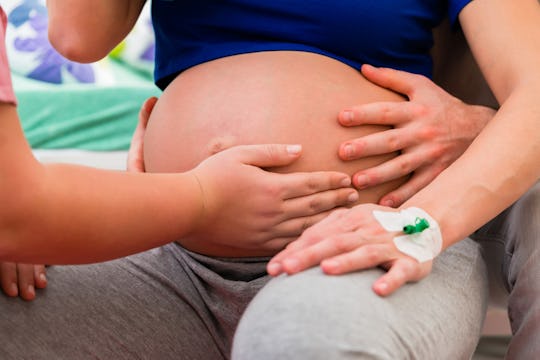 Kzenon/Shutterstock
5 Signs You Should Probably Have A Medicated Birth & That's OK
If you've spent any amount of time in a mom's group or have read the comments section of any parenting website, you already know that mom shaming is a real thing. Maybe you aren't currently acquainted with a person who has their camera out ready to catch you in the fast food drive-thru, but I'm sure you know someone would be appalled to learn that you've had, or are considering getting, an epidural. The reality is that not every woman can have an unmedicated birth — and that's OK. But how do you know which route is best for you? There are actually some signs you should have a medicated birth, which doesn't make your birth experience any less real.
In a recent interview with Romper, Dr. Jill Hechtman, the Medical Director at Tampa Obstetrics, says:
"I feel that the epidural gives women a level of comfort that allows interaction with their significant other and truly enjoy the birth experience. There is an ugly side to unmedicated birth, including vomiting, screaming, and pushing when not ready. There is no reason to suffer."
Although Hechtman is a big fan of epidurals, she does respects her patients and their wishes. If your doctor doesn't do that, then it may be worth seeing someone else. Whether or not you are planning to have a medicated birth, here are some reasons your health care provider may recommend one.