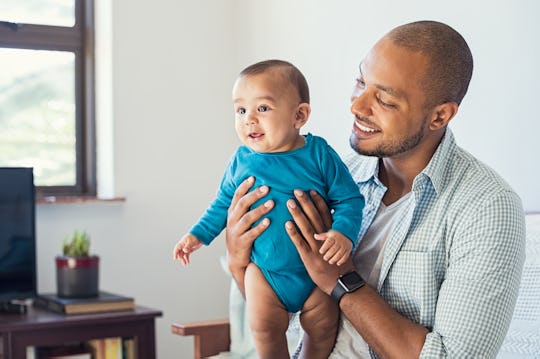 Shutterstock
Here's How To Tell If Your Baby Is *Truly* Happy
Most parents will spend long hours gazing at their children, wondering what's going in in their adorable little baby heads. Do they dream of applesauce and their fluffy bunny plush? Do they feel warm and cozy when we're holding them? It's hard to think of babies as anything other than essentially happy creatures, given how quick they are to smile, coo, and laugh, but as it turns out, there are signs that your baby is happy that you might be missing.
Babies are pretty complex little creatures, in spite of how simple their lives are. Sure, most of their day revolves around bodily functions and staring at ceiling fans for fun, but they're constantly taking in everything around them, learning about their world through all of their senses. That's because at birth, babies aren't born with fully-developed brains, noted developmental psychologist Darcia F. Narvaez Ph.D. in the journal Psychology Today. What is developed is the survival instinct and the capacity to learn, and dependent upon a variety of factors, babies learn and thrive, growing up happy and healthy.
Basically? Babies are a pretty happy bunch, according to licensed clinical psychologist Dr. Dara Bushman, Psy.D. aka, "Dr. Dara". I contacted her and asked how you can tell specifically, and here is what she says.