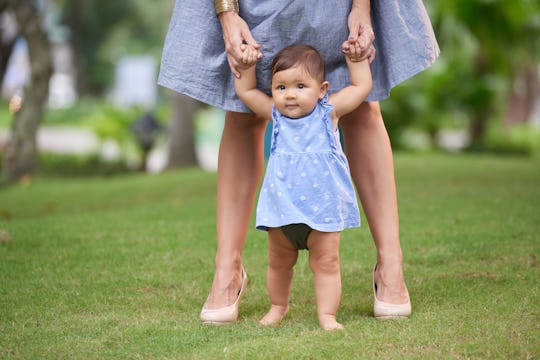 Shutterstock
5 Signs Your Baby Needs Physical Therapy, According To A Pediatric Physical Therapist
Watching a baby grow up fills a parent's heart with pride and joy. But it can also fill a mom or dad with anxiety, especially if that baby is dealing with any developmental delays. If you're worried that your little one's physical development is lagging behind, you should be aware of the signs that your child might need physical therapy.
I spoke with Magdalena Oledzka, a pediatric physical therapist at New York's Hospital for Special Services, to learn more about what parents should watch out for. "If parents have any concern about their child's development, they should first talk to their pediatrician," she says. It's never too early to start seeing a physical therapist, because early intervention is key.
You may not realize it, but there's actually a strong connection between a child's physical development and their development in other areas. An infant who can't sit up and interact with their loved ones, or a toddler who can't walk and chase around other children, can start to feel the effects in multiple ways. "Motor skills are the core of an infant's everyday actions and social interaction and as a result perceptual, cognitive and social development," Oledzka says. If their motor skills lag behind, their other skills might start to as well.
If you're seeing any of these five signs in your child, you'll want to speak to their doctor about doing an evaluation.