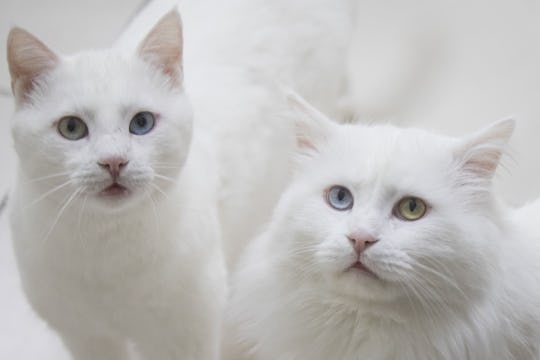 Chris McGrath/Getty Images News/Getty Images
5 Signs Your Cat Is Stressed Out From Your Baby & Needs Some Space
Introducing your pet babies to your real baby is one of the coolest parts of parenthood. Everyone is family, finally. Unfortunately, though, not all pets take to human babies right away. Knowing the signs your cat is stressed out from your baby will help you make sure the feline in your house isn't too overwhelmed. Hey, babies really do change everything, and this goes for Fluffy's living conditions as well.
In general, giving your stressed-out cat the time and space to process this major life change is crucial. Ensuring your cat has an "out" when the baby gets noisy is especially important. "When there's chaos or fuss around the baby, make sure your cat can get to a comfort zone — usually the place where she sleeps or catnaps," said veterinarian Dr. Peter Kross in Pet Place. It's nothing personal, but the cat may need to escape the unfamiliar sounds and smells of the baby from time to time.
But just because your cat doesn't seem to be super enthusiastic about their new human sibling, don't panic just yet, because babies and cats can definitely learn to play together well. And there's really no threat to the old wives' tale about a cat sucking the life of a newborn — if anything, your cat is more likely to be afraid of the baby, not super aggressive toward it. With a little time and patience, your whole family, feline and human alike, can get along together famously.