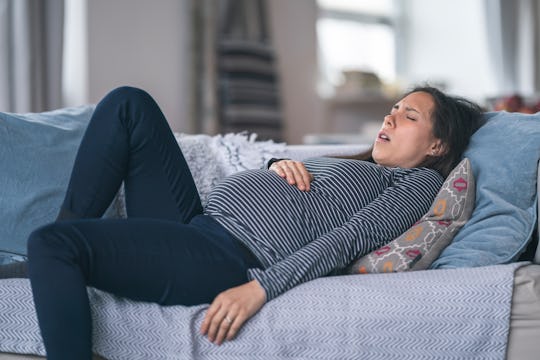 Fly View Productions/E+/Getty Images
5 Signs Your Cervix Is Thinning & It's Almost "Go Time"
Having a baby is exciting, but it's also nerve-racking. Thankfully, toward the end of your pregnancy, you'll start to notice signs that labor and delivery are right around the corner. One of those signs is a thinning cervix, which indicates that your uterus is officially preparing for childbirth. So if you're trying to wrap your mind around the fact that you're going to be bringing another human being into the world before you know it, know the signs your cervix is thinning and plan for the immediate future accordingly.
Effacement, also known as thinning of the cervix, begins in the final month of pregnancy and means your cervix is preparing an exit route for baby to make a grand appearance, according to What to Expect. "During a normal labor process, the early stages of cervical thinning and dilation can be a slow, gradual process, especially for first time moms," says Dr. Nita Landry, M.D., board-certified OB-GYN and co-host of The Doctors. There are other signs that labor is looming, however, that will also let you know that your body is preparing for childbirth and, as a result, your cervix is thinning.
Landry says the only way for a woman to know exactly what her cervix is doing is for a health care provider to perform a cervical exam. "While you can definitely look out for signs of labor, remember that no one knows exactly what triggers labor," says Landry. "Every person will have a unique labor experience."While it's impossible to know the exact date and time you'll go into labor, you can stay alert and look at the following signs that may subtly let you know that you'll be holding your baby (or babies!) in your arms soon.
This article was originally published on