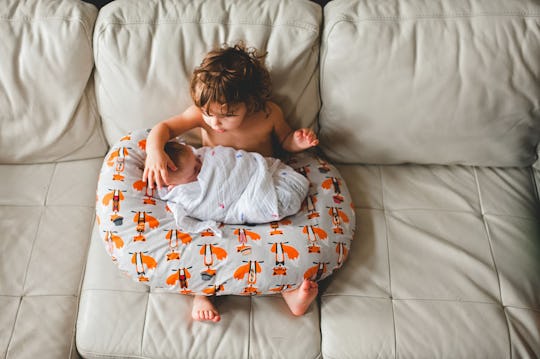 Courtney Rust/Stocksy
5 Signs Your Child Isn't Ready For A Sibling, According To Experts
Growing up as an only child, I firmly believed that a sibling was the single greatest gift any parents could ever give their kid. So you can imagine my surprise when, years later, my daughter was decidedly less than thrilled to be "gifted" with her younger brother. At 4 years old, I assumed she'd be ready to welcome another member of the family, but it turns out a child's sibling-readiness level depends on more than age. So what are some signs your child isn't ready for a sibling?
Of course, you can't be expected to cater your family planning schedule to the apparent whims of a toddler, but it's worth figuring out where your child stands on the idea before your next baby's arrival. Even if you don't delay your pregnancy, you'll at least be able to work on preparing your older kid for the changes ahead.
"The question of having more children should truly be founded in the stability and happiness of the current state of affairs," Dr. Alex Dimitriu, M.D., a California-based psychiatrist and founder of Menlo Park Psychiatry & Sleep Medicine, tells Romper.
"If everyone is happy, learning, and interacting well, then truly it is a decision centered on desire to do so. On the other hand, if issues already exist, the opposite may be true."
Dr. Dimitriu uses the "climbing analogy" to illustrate his point, explaining that rock climbers are taught to find three points of contact before moving to a new point.
"There should ideally be stability before something new, including more children, is undertaken," he explains.
That stability is rooted in the health and well-being of your child, so it's important to make sure that their emotional needs are being met as you grow your family. Looking at their behavior and habits for clues about how they feel is a great place to start. Are any of the following things true for your kid?