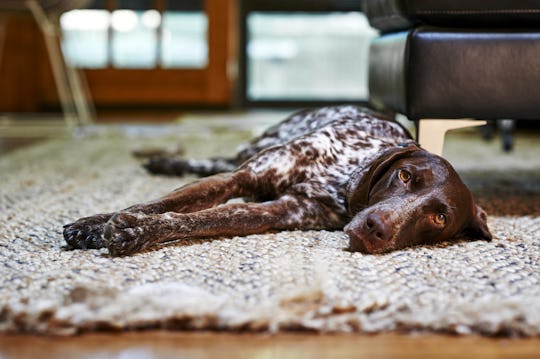 Brian Goodman/Shutterstock
5 Signs Your Dog Is Having A Bad Day & What You Can Do About It
Everyone gives off certain signs when they're having a bad day, don't you think? I can utter a sigh from across the room and my husband knows, after 13 years of marriage, that he should perhaps ask me if everything's alright. It's my bad day "tell," and I don't have to utter a word. As it turns out, dogs can have bad days, just like humans. From neglecting their favorite toy to obsessive paw licking, a dog can, in his own way, let you know something's not quite right.
First things first, you'll want to make sure you're not misinterpreting his bad day for something physically wrong. Once you have ruled out, with the help of a professional veterinarian, that your dog is fit and healthy, it may be time to look closer to home. In an interview with Romper, John Woods, Founder of All Things Dog, says, "Dogs love human interaction; they are man's best friend for a reason. If your dog isn't getting the love, attention, and fuss that they should be, this can result in destructive behaviors or an aloof temperament. We can easily confuse an aloof and sad dog for a dog who just isn't getting loved."
Do you recognize any of these signs in your pet?