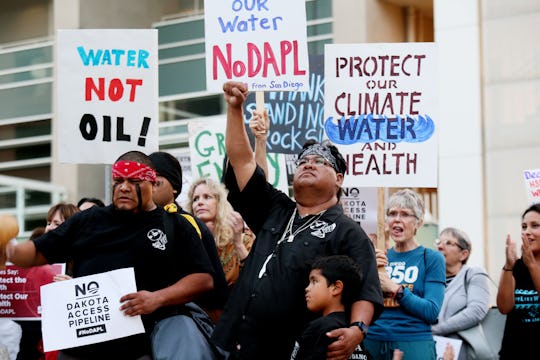 SANDY HUFFAKER/AFP/Getty Images
5 Standing Rock Protests Across The Country To Show Solidarity
In case you've missed it, there's something pretty big going down in Standing Rock, North Dakota, at the moment — and it's now started spreading across the entire country. The Standing Rock Sioux tribe has been protesting the creation of the Dakota Access Pipeline for two years now, and they've now been forced to physically block pipeline construction over the last few months. Recently, protesters from across the United States have begun showing up online and in their own cities to support the Standing Rock group. The recent Standing Rock protests across the country have highlighted a collective desire to make Native Americans' desires heard — and heeded.
The Dakota Access Pipeline, a $4 billion project owned by Energy Transfer Partners, is meant to shuttle approximately 570,000 barrels of crude oil on a daily basis, according to TIME. It would run from North Dakota to Illinois under the Missouri River and bring newly fracked oil across the United States. The only problem (or three) with the pipeline? Standing Rock Sioux opposed to the project argue that any pipeline leaks could contaminate the Missouri River, the main water source for their community of 10,000. The pipeline could also disturb the tribe's burial grounds, and Standing Rock Sioux claim the government didn't involve them in the decision-making process when it came to approving the pipeline (which the government is legally required to do).
Finally, environmentalists argue that the pipeline will contribute to accelerating the rate of climate change, and that the United States should be stepping back from fossil fuel-based energy.
So how have supporters of the Standing Rock protests shown up in their own cities?
New York City, New York
The Eagle and Condor Community Center will be hosting a prayer march for Standing Rock on Saturday, Nov. 5 at 10:00 a.m., with attendees meeting outside the National Museum of the American Indian.
Portland, Oregon
Activists in Portland will be meeting on Wednesday, Nov. 1 at 4:00 p.m. on Congress Street, protesting outside the Democratic National Convention's office. The Standing Rock Sioux tribe has asked activists to call on Democratic candidate Hillary Clinton's campaign to stand with Standing Rock.
San Francisco, California
On Sunday, Nov. 6 at 1:00 p.m., Jil Love Revolution — which aims to use art and activism to create awareness — will be marching on Market Street, with attendees encouraged to wear oil-stained clothing to make a statement.
Salt Lake City, Utah
On Tuesday, Nov. 1 at 7:00 p.m., Salt Lake City activists will gather at the Salt Lake City and County Building to stand in solidarity with Standing Rock.
Dallas, Texas
Activists and allies in Dallas will be gathering outside Energy Transfer Partners' headquarters in Dallas to protest the creation of the pipeline on Tuesday, Nov. 1 at 4:30 p.m.
If you'd like to take part in a local protest not mentioned here (or you missed the one in your city), search for your city's name and #NoDAPL on Twitter, Facebook, or Google to join an existing protest or organize one yourself. People from all over the world have been getting involved — allies took over the Westminster bridge in London recently, while Māori performed hakas in solidarity from New Zealand — and there's nothing to stop interested protesters from getting involved.