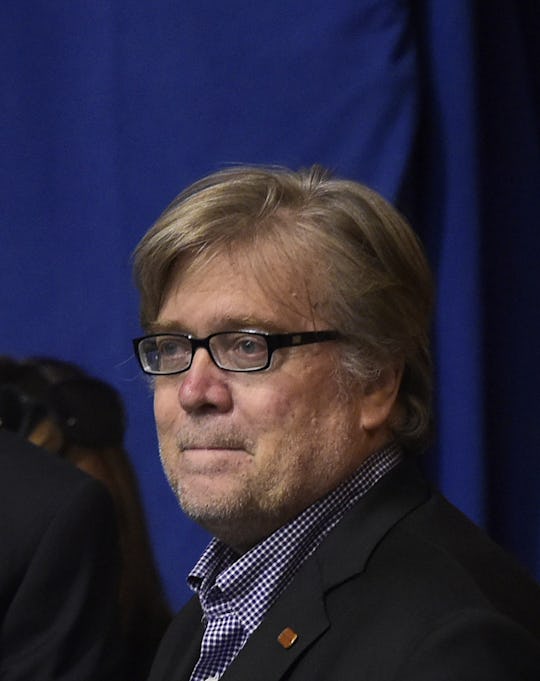 MANDEL NGAN/AFP/Getty Images
5 Steve Bannon Quotes That Explain Why Trump's Chief Strategist Pick Is Concerning
President-elect Donald Trump may have pledged to unite the country and be a leader for all Americans after his victory on Nov. 8, but at least one of his first two picks for White House staff positions has raised some serious eyebrows. After Steve Bannon, executive chairman of Breitbart News and Trump campaign chief, was named as Trump's chief strategist and senior counselor Sunday, according to CNN, critics argued that Bannon was a racist and anti-Semite, responsible for turning Breitbart News into an alt-right outlet focusing on headlines meant to stoke hatred among readers. While Bannon has tried to downplay those claims, these Steve Bannon quotes explain why so many people are dismayed in Trump's choice for chief strategist.
When Bannon was first named as Trump's campaign chief in August following the resignation of Paul Manafort, he seemed like somewhat of a surprising choice. Like Trump himself, Bannon didn't have any direct experience running a political campaign, but he has been credited with helping Breitbart News become "one of the most-read news sites in the U.S.," according to CBS News — but, also like Trump, he doesn't appear to be particularly bothered by controversy. Critics, including some of Bannon's former Breitbart editors and writers, have accused him of being a "bully" who specifically wanted Breitbart to be a pro-Trump outlet during the election, with former editor Ben Shapiro saying he was "a vindictive, nasty figure, infamous for verbally abusing supposed friends and threatening enemies." Another former Breitbart staffer, spokesperson Kurt Bardella, claimed Bannon "made more off-color comments about minorities and homosexuals than I can recount," according to CBS News. (Romper's request to Bannon for comment was not immediately returned).
While Bannon himself seems to prefer to let Breitbart headlines and Trump campaign videos do the talking (he has also produced documentaries in the past lauding former Alaska Gov. Sarah Palin and former United States Rep. Michele Bachmann, according to The Daily Wire), he certainly hasn't denied his proud alt-right viewpoint. And, well, some of his quotes have been so offensive that it's honestly not entirely surprising he did so well contributing to the Trump campaign:
He's Anti-Feminist
Back in July, Bannon confidently told Mother Jones that Breitbart is "the platform for the alt-right," and so it probably wasn't a stretch to assume he wasn't a big supporter of feminism. But in case there was any doubt, in 2011, Bannon said in a radio interview that he thought progressives don't like conservative women because they aren't "a bunch of dykes," and because they are "pro-family," according to BuzzFeed:
That's why there are some unintended consequences of the women's liberation movement. That, in fact, the women that would lead this country would be pro-family, they would have husbands, they would love their children. They wouldn't be a bunch of dykes that came from the Seven Sisters schools up in New England. That drives the left insane and that's why they hate these women.
He Thinks Equal Rights Is About Victimhood
In the same interview, Bannon also argued that "the progressive narrative ... is all about victimhood," and suggested that the push for equal rights for minorities is about unfairly claiming they were being oppressed. According to BuzzFeed, Bannon said,
They're either a victim of race. They're victim of their sexual preference. They're a victim of gender. All about victimhood and the United States is the great oppressor, not the great liberator.
He's A Big Supporter Of Breitbart's Most Offensive Headlines
One of Bannon's particularly questionable decisions was giving a prominent platform to writer Milo Yiannopoulos, a self-described white nationalist, who, according to The Washington Post, was permanently banned from Twitter for an onslaught of racist abuse targeted at Ghostbusters actress Leslie Jones. Some of Yiannopoulos' most absurd stories? In 2015 he penned an article called, "Birth Control Makes Women Unattractive and Crazy," in which he argued, according to Snopes, that "your birth control injection will add on pounds that will prevent the injection you really want — of man meat." Then, according to The Hill, there was the more recent article, written about Weekly Standard editor Bill Kristol, which he titled, "Bill Kristol: Republican spoiler, renegade Jew."
Some have argued, of course, that Yiannopoulos, not Bannon, should be the only criticized for these pieces (and, uh, to be clear, he totally should), but according to Vanity Fair, Bannon was behind Yiannopoulos all the way, and told the magazine, "did you hear about Milo? It's great."
He's Not Bothered By The Alt-Right's Racists & Anti-Semites
Although the alt-right is often characterized by racism and hatred and white supremacy, Bannon doesn't seem to be put off by it at all. In fact, according to Mother Jones, he seems to just think that's par for the course:
Look, are there some people that are white nationalists that are attracted to some of the philosophies of the alt-right? Maybe. Are there some people that are anti-Semitic that are attracted? Maybe. Right? Maybe some people are attracted to the alt-right that are homophobes, right? But that's just like, there are certain elements of the progressive left and the hard left that attract certain elements.
But while Bannon seems to consider himself separate from anyone identifying as a racist, according to NBC News, in a sworn declaration in a 2007 court filing, Bannon's ex-wife accused him of making anti-Semitic comments about their daughters' private school, The Archer School for Girls. According to the document, Bannon said,
...the biggest problem he had with Archer is the number of Jews that attend. He said that he doesn't like Jews and that he doesn't like the way they raise their kids to be 'whiney brats' and that he didn't want the girls going to school with Jews.
In a tweet Sunday, John Weaver, former chief strategist for Ohio Gov. John Kasich's presidential campaign, took Bannon to task, calling him a "racist" and an "anti-Semite." But Bannon's rep denied that he made any anti-Semitic remarks, and told NBC "Mr. Bannon never said anything like that and proudly sent the girls to Archer for their middle school and high school educations." (Romper's request for comment was not immediately returned.)
It's still to be seen what exactly Bannon's role will be when Trump takes office — though if his campaign under Bannon was any indication, it likely won't be pretty (and almost certainly not politically correct). One thing that is for sure though is that there are lots of people who aren't happy with Bannon's new position, and aren't very optimistic about the implications it could hold for the country.