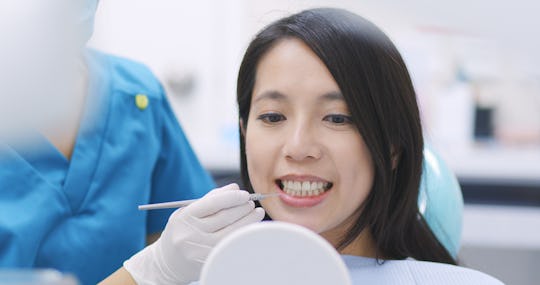 leungchopan/Shutterstock
5 Subtle Changes To Your Teeth That Can Be A Sign Of A Serious Health Concern
So many of us are guilty of not going to the dentist as often as we should. Lots of people, myself included, tend to put off an appointment until there's a problem that needs to be fixed. But getting regular check ups is really important, and it's actually about more than just your smile. A dentist can help pinpoint subtle changes to your teeth that can be a sign of a serious health issue. Once you understand the clues your teeth can give you about your overall health, you might be a lot more motivated to finally schedule that next visit.
If you don't have a lot of issues with your teeth, you might only need to get a check up and cleaning once or twice a year according to Delta Dental. That's easier said than done, however, for people who find the idea of settling into the dentist's chair anxiety inducing. I can say from personal experience that it's usually not as bad as you think it will be, and that if your dentist doesn't put your nerves at ease, you might be surprised how much of a difference simply switching doctors can make for your state of mind. And when all else fails, don't forget that sedation dentistry is an option — you can't freak out if you're knocked out.
Here are five signs that may indicate an issue that goes far beyond your oral health.