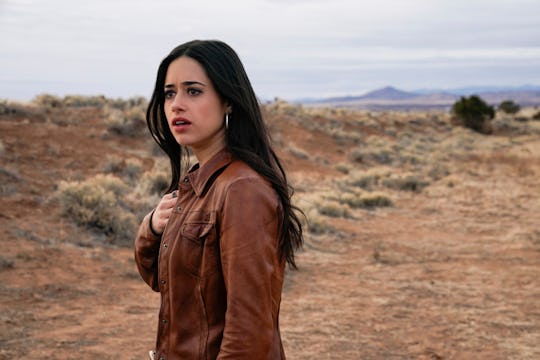 Ursula Coyote/The CW
Season 2 Of 'Roswell, New Mexico' May Reveal More About The Aliens' Past
It's hard to believe, but Season 1 of Roswell, New Mexico is coming to a close. Unlike the 90's version, this reboot combined it's alien conspiracy storyline with some timely modern elements, including same-sex relationships, healthcare, and immigration. The first season pulled fans in deep, and after a nail-biting finale, they're busy piecing together theories for Season 2 of Roswell, New Mexico.
The CW still hasn't confirmed whether the series will return for a second season, but that isn't stopping fans from coming up a wish list of things they hope to see if the show returns. According to TV By The Numbers, the ratings for Roswell, New Mexico have remained steady since the series premiere, which means there's a good chance it will be renewed.
But while the executives mull over their decision, showrunners are in the process of mapping out the future of the show. When talking to Assignment X, executive producer and writer, Carina Adly Mackenzie said that Roswell, New Mexico still has much more alien mythology to explore. "Right now, we're really focusing on our small town, and what happened in our small town," she said. "But as the world gets bigger throughout the season, those questions start to come up, and will be answered. Our aliens don't know anything about where they came from, or why they are here. So we are going to be asking those questions."
If the season finale left you with some burning questions of your own, these theories about Season 2 should help keep you going until (fingers crossed) Roswell, New Mexico returns next year.