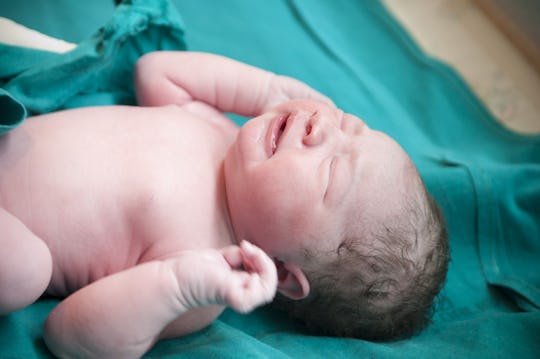 marcomaccolini/Fotolia
Before Adding It To Your Birth Plan, Here's What Experts Think About Vaginal Seeding
Vaginal seeding sounds like some kind of organic farming, but apparently it's taking the birthing world by storm. In a way. According to The American College of Obstetricians and Gynecologists (ACOG), vaginal seeding is "the practice of inoculating a cotton gauze or a cotton swab with vaginal fluids to transfer the vaginal flora to the mouth, nose, or skin of a newborn infant. The intended purpose of vaginal seeding is to transfer maternal vaginal bacteria to the newborn." It's a relatively new practice, and there are things experts want you to know about vaginal seeding. Like, is the practice really beneficial?
There is simple logic behind vaginal seeding. When babies are born vaginally, they come out... messy. They're covered in mom's vaginal fluids, and they've encountered bacteria from both mom's birth canal and rectum. Babies born via C-section, on the other hand, don't encounter this same bacteria. According to a blog post written by pediatrician Dr. Mark Sloan for Science and Sensibility, "Instead, bacteria from the skin and hospital environment quickly populate the bowel. As a result, the bacteria inhabiting the lower intestine following a cesarean birth can differ significantly from those found in the vaginally-born baby." Unfortunately, studies have linked the altered bacteria in a cesarean-birthed baby's gut to an increased risk for certain conditions. Megan Davidson, a Brooklyn-based doula and author of of the book Your Birth Plan, tells Romper, "Allergies, asthma, diabetes, and immune system problems have increasingly been linked to a deficiency of gut bacteria." Thus, vaginal seeding is an attempt to remedy this discrepancy by providing babies born via C-section with bacteria from their mother's vaginal fluids.
Now that we're clear on the basics, there are a few things that childbirth experts want expectant mothers to know.