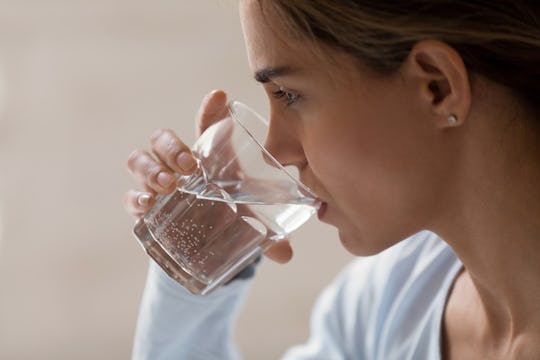 fizkes/Shutterstock
5 Things That Can Happen To Your Body When Taking Acetaminophen Or Ibuprofen
Most people don't think twice before taking a pain reliever for a headache or other common pain. But in some cases, there are a few creepy things that can happen to your body when you take Advil or Tylenol. Although these medications are generally safe and widely used, there are a few ways they can adversely affect the body.
First, though, it's important to understand what these common drugs actually are, underneath the brand names. "Tylenol is the brand name for acetaminophen. Advil or Motrin is the brand names for ibuprofen," says Dr. Geralyn Frandsen, Assistant Director of the Online Nursing Program at Maryville University. It's important to keep this in mind, because going by the brand name alone may make it easier to accidentally overdose, potentially worsening adverse symptoms.
That said, this isn't meant to scare you away from over-the-counter pain relievers forever. Millions of people take them all the time to manage pain symptoms, and they are deemed safe by the FDA. Really, there are a lot of ways people can use these medications safely and responsibly. "You have to be informed about the best type of pain reliever to take depending on your pain and at the same time, be in the know about its side effects," says Dr. Robert Segal, co-founder of LabFinder. As Dr. Segal further explains, NSAIDs (non-steroidal anti-inflammatory drugs) help ease pain, reduce fever, and decrease inflammation. However, not all drugs have these same effects. "Acetaminophen helps to reduce pain and fever, but it does not affect or help with inflammation," says Dr. Segal. If you don't know which type of pain reliever is best for your particular situation, then definitely contact your healthcare provider for advice.