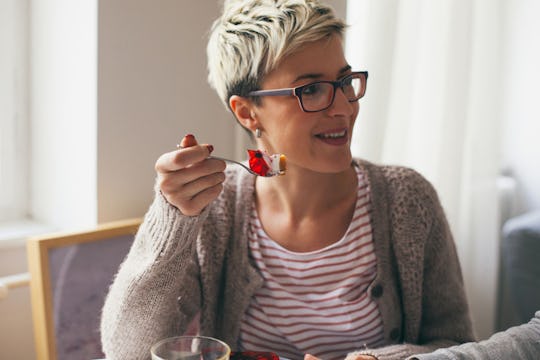 VeaVea/Stocksy
5 Things That Happen To Your Body Within An Hour Of Eating Sugar
As someone with a relentless sweet tooth, I have a difficult time saying no to any dessert. From ice cream to candy bars, it's all divine to me. But given the many creepy things that happen to your body right after eating sugar, even I might back off the sweet stuff a little bit. Sugar can mess with your body and brain in some very real ways.
That said, I'm not trying to demonize sugar altogether. But for the most part, health experts agree that less is best. For instance, consuming no more than about six teaspoons of added sugar per day is recommended by The American Heart Association. The body does not require sugar to function, and added sugars don't provide any nutrients to food, as further explained by The American Heart Association.
So why is something that doesn't provide needed nutrients so dang tasty and addictive? Eating sugar releases the hormones dopamine and serotonin in the brain, which boost a person's mood, according to The Independent. In other words? People eat sugar because it makes them feel good by activating the brain's reward center.
But that's far from the only way sugar affects the body and brain. Here are some of the more concerning things that happen to the body just a few minutes after eating sugar.