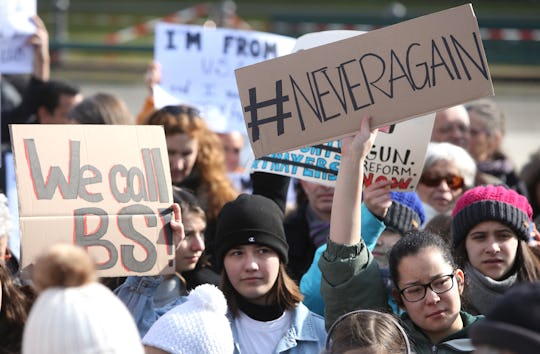 Adam Berry/Getty Images News/Getty Images
5 Things To Know About The National School Walkout On Friday
On Friday, students across the nation will walk out of their classrooms at 10 a.m. for the National School Walkout. The protest, which comes right off the tail of a series of student-led political initiatives like the March 14 walkout, is aimed to not only honor the students who were killed 19 years ago at Columbine High School, but to mobilize, as well as to send a message to government leaders that young people are demanding change. Staying informed is of the utmost importance at this time, so here are five things to know about the National School Walkout.
Students will begin the day with a moment of silence at 10 a.m. to honor those who have lost their lives in school shootings. The rest of the day will include some combination of speeches, chanting, marching, and organizing petition forms. However, each school that is registered for the protest will have a different itinerary designed by protest leaders. Though there are some questions and concerns about the logistics of disciplinary action that could result from leaving school, experts say students can only potentially be docked for missing class — not for protesting something with political affiliation.
1. The National School Walkout Begins On Friday, April 20 At 10 a.m.
According to the original Change.org petition started by high school student Lane Murdock, the National School Walkout is being held Friday, April 20, beginning at 10 a.m. local time in each time zone. This is what's being requested for protesters across the nation:
Walk out of school.
Wear orange.
Protest online and in communities.
So far, 255,459 people have signed the petition.
2. The Time And Date Were Chosen To Honor The 1999 Shooting At Columbine High School
The walkout is being held on the 19th anniversary of Columbine, according to TIME, and will begin with a moment of silence to honor the students and teacher killed. Columbine was the deadliest high school shooting in U.S. history until 17 people were killed in Parkland, Florida this February. The deadliest school shooting, generally, was the Virginia Tech shooting in 2007, where 32 people were killed; followed by the Sandy Hook Elementary School shooting in Newtown, Connecticut, in 2012, when 20 first graders and six adults were killed, according to the New York Daily News.
3. What Happens After 10 a.m. Is Up To Each Walkout's Leaders
Certainly the main question on parents and students' minds is: what happens after 10 a.m.? According to CNN, it depends on what each leader has planned. A sample itinerary from the walkout's official website lists the following as a guideline:
10:00-10:10: Students walk out of the building and gather somewhere near campus.
10:10-10:11: Organizer address the crowd, reminds everyone of the purpose of the event, and commences 13 seconds of silence to honor the 13 killed at Columbine High School. Then, Organizer makes plug for voter registration, names the destination and leads the walk.
10:11-10:30: OPTIONAL—March from campus to lawmaker's office/other destination, led by speakers, affected people, their families, and advocates.
10:30-10:35: Crowd gathers again, volunteers send around signup clipboards.
10:35-10:40: Organizer leads crowd in chants, and names specific demands (gun reform now, No Concealed Carry Reciprocity Act, no NRA money).
The itinerary has events scheduled until 1:25 p.m.
4. Students Can Be Disciplined For Missing Class, But Not For Protesting
Another question on many parent's minds is whether students can be disciplined for protesting. Legal expert Vera Eidelman, a fellow in the ACUL's Speech, Privacy and Technology Project, told TIME:
Students do not lose their rights to free speech at the schoolhouse gate. They can speak, they can wear expressive clothing, they can make their voices heard as long as it's not disruptive in school. But all that said, because in most jurisdictions, students are required to go to school, schools can discipline them for missing class — for example, in a walk out.
5. The National School Walkout Was Started by 16-Year-Old Lane Murdoch
Lane grew up 20 miles from Sandy Hook Elementary School, where 20 young students were killed in 2012. TIME reports that she began the Change.org petition after the Feb. 14 shooting at Marjory Stoneman Douglas High School. As of now, there are more than 2,500 protests registered. She told CNN:
When I found out about the shooting at MSD, I remember I didn't have a huge reaction. And because of that, I knew I needed to change myself, and we needed to change this country. We should be horrified, and we're not anymore. It's American culture.
A sentiment that many have echoed throughout the months preceding the walkout is that when kids have to protest for their rights, their government has failed them. Hopefully, Friday's walkout may be another step in the direction of seeing real change.