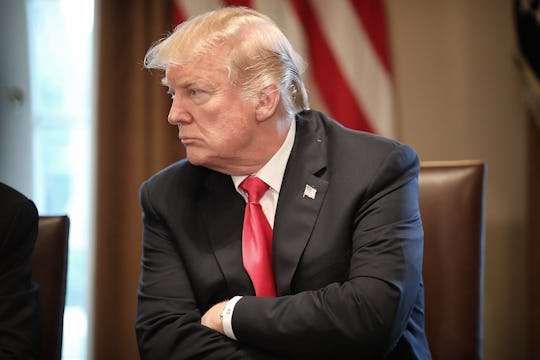 Win McNamee/Getty Images News/Getty Images
5 Things Trump Takes More Seriously Than School Shootings
Two weeks have passed since the shooting at Marjory Stoneman Douglas High School that took the lives of 17 students and faculty members. In that time, President Donald Trump has had plenty of photo opportunities and televised meetings, but nothing has been done to actually prevent the next one. Survivors, politicians, and the public have questioned the president's grasp on the gravity the situation, so let's explore a few of the things Trump takes more seriously than school shootings, because there's got to be something that he actually gives a damn about, right?
Trump has offered a few bizarre "solutions" to the problem that don't involve reducing American's unfettered access to weapons of war, none of which are very well thought out. Ideas such as arming teachers, opening mental institutions, and scrapping the Fourth Amendment (because four comes after two?) have all been floated. But he doesn't apply this sort of superficial attitude towards all of his undertakings, despite what you might have assumed about a bestselling author who refuses to read, either for work or pleasure. When Trump really cares about something, believe me, he's all in. Having a hard time imagining Trump engaging in anything with gusto? Allow me to offer some examples:
His Image
Trump has a very different view of himself than most of the public, as evidenced by the fact that he's kept a very ~unique~ hairstyle for decades, despite a lot of not-so-secret criticism. You might assume that he doesn't care what other people think of him, but really, the opposite is true; he very much wants everyone to see him as the sexy, talented, very stable genius and billionaire he knows himself to be. He also wants everyone to know how brave and compassionate he is, which is why he told a group of governors (and TV cameras) on Monday that had he been present at Marjory Stoneman Douglas High, he would have "run in there even if I didn't have a weapon," as NBC News reported. Trump is a hunky fireman calendar come to life, folks.
Twitter
Trump doesn't tweet for fun; he tweets because he has to. He's always recognized what an important job it is; in 2012, he tweeted, "My twitter has become so powerful that I can actually make my enemies tell the truth." It's like a superpower! Just after the election, he told 60 Minutes' Lesley Stahl that social media helped him win, but that "I'm going to do very restrained," once taking office, "if I use it at all." Unfortunately, he had no choice but to keep tweeting, as he explained in a December 2017 tweet:
I use Social Media not because I like to, but because it is the only way to fight a VERY dishonest and unfair "press," now often referred to as Fake News Media. Phony and non-existent "sources" are being used more often than ever. Many stories & reports a pure fiction!
Kudos to him for keeping it real.
Both Sides
Trump wants everybody to get along, which is why he's expressed multiple stances on everything from Muslims to abortion to presidents taking vacations. He sees the good in everyone and everything. That's why he referred to the white supremacists and neo-Nazis who rioted in Charlottesville as "some very fine people," and it's also why he called the NRA leadership "Great People and Great American Patriots" and treated them to a private lunch over the weekend.
Dinner
Trump treats his body like a temple, obviously. That's why he eats fast food nearly exclusively, as he explained to Anderson Cooper in 2016. "I think you're better off going there than someplace you have no idea where the food is coming from," he said, according to Vanity Fair. "It's a certain standard." And what's nearly as important as quality? Quantity, of course! That's why he eats so damn much of it. His standard dinner order, according to Let Trump Be Trump: The Inside Story of His Rise to the Presidency, consists of "two Big Macs, two Fillet-O-Fish, and a chocolate malted." Does McDonald's actually sell malteds? Has anyone sold malteds since 1947? Doesn't matter; he's the president!
Fundraising
Trump's been criticized for only spending 35 minutes at a Pompano Beach hospital visiting with Parkland survivors. Would it impress you more to learn that he was actually multitasking during that visit? According to The Hill, the tender moment captured above, in which Trump is seen comforting 17-year-old Madeleine Wilford, was later used in an email soliciting campaign contributions. Way to maximize your time, dude! We really have to start giving this guy more credit.