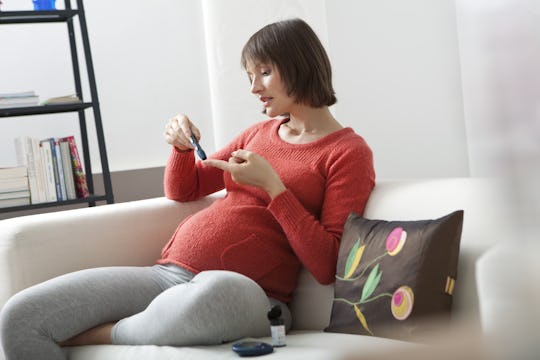 Image Point Fr/Shutterstock
5 Things You Didn't Realize Are Signs Of Gestational Diabetes
There are some unexpected and scary things that come up while you're pregnant. Some can be mild conditions, while others can be quite serious and require constant monitoring and treatment. Thankfully gestational diabetes mellitus (GDM) is a condition that can be screened for in pregnant women early on in the pregnancy. It also can be effectively managed so as to cause no problems for mom or baby. Many moms-to-be who get diagnosed with gestational diabetes are shocked, but there may be some things you didn't realize are signs of gestational diabetes that could prepare you for the doctor's news.
According to WebMD, gestational diabetes is not rare and occurs in as many as nine out of 10 pregnant women. The same site noted that anyone can get the condition, but people who are Hispanic, African-American, Native American, Asian American, and Pacific Islander carry a higher risk. Others with an elevated risk include women who were overweight before getting pregnant, have family members with diabetes, have had abnormal blood sugar tests before, have had a very large baby (nine pounds or more) or a stillbirth.
According to What To Expect, gestational diabetes usually starts somewhere between weeks 24 and 28. The site explained that it happens when the body doesn't produce enough insulin to deal with an increased amount of glucose, or sugar, that's circulating in your blood that helps a baby grow. Many of the symptoms of gestational diabetes mimic normal pregnancy symptoms and often go unnoticed, but if you notice any of the following five signs you might have gestational diabetes.