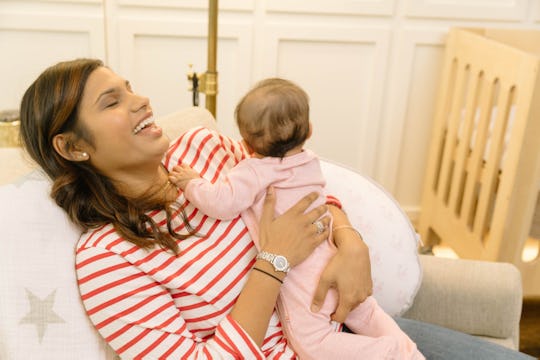 Ashley Batz/Romper
5 Things You Do Every Day That'll Make Your Baby Kinder Later In Life
Most parents consider kindness a must-have trait when they think about raising their children. In a world where hate, bullying, and unkindness is around every corner, it's no wonder that raising children to be the opposite of what is often see in culture is a top priority. Kindness, however, isn't necessarily something that people are born with. Like so many other positive traits, it is learned — passed down from parent to child. Luckily, you can start instilling kindness early. In fact, there are many things you do every day that will make your baby kinder later in life, perhaps without even realizing it.
In watching my 3 year old and 2 year old play, I'm aware that kindness definitely doesn't come naturally to toddlers, middle schoolers, or oftentimes, fully grown adults. For better or worse, people copy what they see from a young age. Luckily, whether kindness comes naturally or not, parents of babies and small children can intentionally demonstrate kindness through the simplest of actions that they likely do already.
Raising kind children in an unkind world often seems like an impossible feat, but like Aesop said in a time long ago but perhaps not so unlike our own, "no act of kindness, no matter how small, is ever wasted."