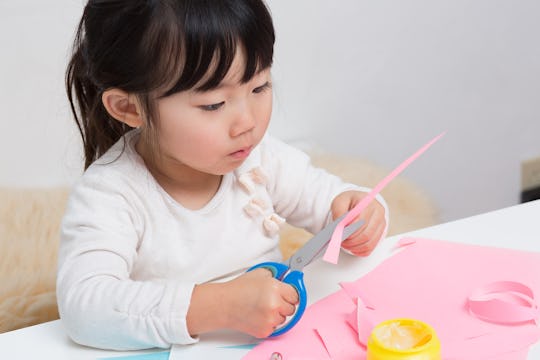 ucchie79/Fotolia
5 Things Your Child Should Know Before Going Into Preschool, According To Their Teacher
Even if it's just for the half day, sending your child off to school for the first time is nerve-wracking. The good news is that preschools exist to prepare your child for their next step, and the best ones don't take prior knowledge for granted. So if you're trying to figure out the things your child should know before going into preschool, you can rest easy. Romper spoke with Dr. Jennifer Jipson from The Goddard School's Educational Advisory Board to learn more about preschool readiness, and you may be surprised to find that her guidelines have little to do with ABCs and 123s.
Jipson explains there are many definitions of readiness, and parental emphasis on content knowledge — colors and shapes, for example — is misplaced. So put those flashcards away: "What really matters are children's executive function skills ... and their learning dispositions."
She also wants parents to know it's not your child's job to get "ready" for preschool (or any level of early schooling), but rather, "it is the job of schools to be prepared to meet the needs of all children — despite vast individual differences in children's developing skills."
That said, emotional regulation and social skills can make a difference as your child takes their first steps into the academic world. So what skills should they have under their belt before their first day of preschool?