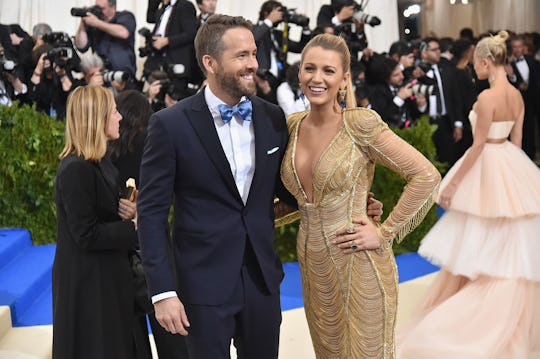 Mike Coppola/Getty Images Entertainment/Getty Images
5 Times Blake Lively Trolled Ryan Reynolds In The Very Best Way
Blake Lively and Ryan Reynolds make up the kind of celebrity couple that's very easy to love. They're talented movie stars who look absurdly beautiful together, they seem to sincerely be completely in love with one another, and they also happen to be loving parents to two adorable children together. But the best part about Lively and Ryan is that they seem to love making each other laugh — and even if they weren't famous, it seems like they'd still be a great match. Not convinced? These five times Blake Lively trolled Ryan Reynolds on social media prove that while they may be big-time celebs who take their work seriously, when it comes to their marriage, they're all about having fun.
For Instagram couples during the holidays, life usually looks like a never-ending slew of expertly curated "casual" photos showing them looking perfectly happy and in love while walking in the snow, decorating Christmas trees, or cuddling in matching pajamas while drinking hot chocolate. And while Lively and Reynolds could easily be queen and queen of romantic Christmas social media posts, a recent photo on Lively's Instagram shows that, yeah, that's clearly not their style. On Saturday, the actress shared a photo of some rather unfortunate-looking Christmas cookies, according to Harper's Bazaar, before promptly throwing Reynolds under the bus with the caption, "@vancityreynolds made some Christmas cookies... 😳...He's verrry handsome though."
That definitely wasn't nearly the first time Lively had roasted her husband online, however. In fact, these gems are only a glimpse at the hilarity that is the couple's ongoing Instagram trolling war.
When She Upped The Birthday Insult Stakes
Reynolds may have thrown the first stone in this particular battle, when he publicly commemorated his wife's 30th birthday by posting a photo of the two of them together — that happened to cut off half of her face. The too-perfect caption? "Happy Birthday to my amazing wife."
Of course, Lively had the perfect opportunity to get him back when his birthday rolled around in October. On Twitter, the actress wished her husband a happy birthday with a photo in which Reynolds also is half cut out of the pic. But because she is obviously an expert at revenge, Lively didn't use a photo of herself with Reynolds, but one of him with Ryan Gosling instead. Point, Lively.
When She Praised John Legend
Editor's Note: The Instagram post has since been deleted.
Ryan Reynolds may be an accomplished actor, but Lively seems pretty intent to make sure it doesn't all go to his head. Case in point: when Reynolds made it onto TIME's 100 Most Influential People list earlier this year, she shared a photo of him at a concert along with the caption,
Congratulations to the most influential person in my life. The best man I know... you deserve this @time 100 honor... If only my husband wasn't blocking you in this shot. I'm so sorry @johnlegend.
Ouch.
When She Called Out His Dad Jokes
If you follow Reynolds on Twitter, you already know that he's an expert at crafting absolutely hilarious tweets about his life as a dad. Whether he's joking about going to Disneyland without his daughter (and then coming home and telling her about it), or when he gave a brutally honest review of her artwork ("I'd hang it on the fridge, but honestly, it's absolute garbage"), it's pretty much impossible not to find it entertaining — especially if you've got kids yourself.
But, ever the caring wife, Lively took the opportunity to let the world know that, yeah, he just makes all that stuff up. In an interview with Glamour in July, Lively said, "He may as well work for the Enquirer. When he says 'my daughter,' he's never, ever talking about her. Everything is a completely made-up scenario."
But all was not lost: because they are basically the best couple to ever exist, Lively also admitted that, actually, she was a huge fan of his made-up tweets. She told the mag, "He'll run them by me sometimes just to make me laugh. But oh, I'm so in love with him when he writes that stuff."
When She Questioned Her Daughter's Paternity
Editor's Note: The Instagram post has since been deleted.
A dad's first Father's Day is usually the perfect time for an adorable photo and a gushing caption about how great he is, but then again, this is Blake Lively we're talking about. Back in June 2015, Lively did share an adorable photo of Reynolds wearing their daughter, James, in a carrier on his chest. But just as we were all gearing up for the cutest dad tribute ever, Lively dropped this gem:
Happy Fathers Day!!! ... @vancityreynolds Since the day our baby was born, I've felt so strongly in my heart that you were most likely the father.
Lively and Reynolds "sorry, not sorry" style of public roasting might not be every couple's style (and if the joke doesn't land right, it could just end up being straight up offensive), but it's pretty clear that they can definitely appreciate each other's sense of humor. And hey, when you're both big time celebs, maybe it's a good thing to have a partner who is not afraid to call you out and keep your grounded.