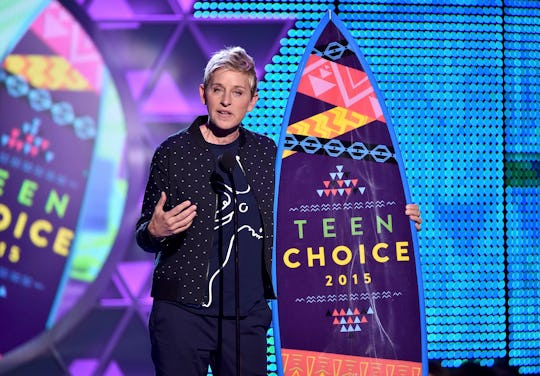 5 Times Ellen DeGeneres Didn't Take Herself Too Seriously, Because Daytime TV Just Needs More Belly Dancing
Here's evidence that good things come to those who "just keep swimming." The Ellen DeGeneres Show was renewed through 2020, ensuring fans get to spend the rest of the decade getting their daily dose of comedian Ellen DeGeneres. According to Variety, the hilarious host pulls in the highest ratings of any female talk show host in the United States.
Beginning in 2003, DeGeneres played a major role in brightening daytime television with her wit, playful spirit, and commitment to kindness. Her personality and her commitment to philanthropy recently won her the People's Choice Humanitarian Award. The winner gets to direct a $200,000 donation to the charity of their choice. ABC News reported that DeGeneres plans to send the money to St. Jude Children's Research Hospital.
DeGeneres is known for her commitment to supporting positive, powerful causes. After DeGeneres took her famous group selfie at the Oscars in 2014 using a Samsung phone, the company expressed their gratitude for the exposure (DeGeneres' tweet of the selfie generated millions of retweets) by donating $1.5 million each to two charities that DeGeneres chose: the Humane Society of the United States and St. Jude Children's Research Hospital. DeGeneres' charitable spirit is dominant in nearly every element of her work, from the #EllensOrganizations page on her show's website to the closing words of each episode, "Be kind to one another."
It's a real gift that the world will get at least three more years of DeGeneres. And while the comedian doesn't back away from opportunities to tackle serious topics and encourage philanthropy, she's also a pro at making people laugh. Here are five fabulous times DeGeneres didn't take herself too seriously:
When She Strutted Onstage With Taylor Swift
When Taylor Swift made a 1989 Tour stop at the STAPLES Center in Los Angeles, DeGeneres stopped by for a behind-the-scenes tour. After rehearsing backstage, DeGeneres donned a delightful sequined number and joined Swift in the spotlight during "Style" for a spirited dance number. In the words of Swift, DeGeneres added "international pop superstar" to her resume.
When She Learned To Belly Dance
Groupon is known for offering huge discounts on surprising experiences. DeGeneres gave the site a go by signing up for belly dancing lessons. She owned the stage in seriously sparkly costume and reminded everyone that it's good to try new things.
When She Had A Starring Role In Nicki Minaj's "Anaconda" Video
DeGeneres didn't make an appearance in the original video, but she put on a pair of shorts and a fanny pack to try out some of Minaj's signature moves in an updated version.
When She Rocked The Sophia Grace Look For Halloween
DeGeneres made British buddies Sophia Grace and Rosie famous for their rendition of Nicki Minaj's "Super Bass." On Halloween, she proved that she's also fit to be a princess in pink when she took on the girls' signature look.
The Time She Danced To "Uptown Funk" With Michelle Obama
DeGeneres is known for getting her audience members up out of their seats and into the groove. When the First Lady joined her for a Bruno Mars dance party, it was almost too much wonderful to handle.
Here's to three more years of epic moves with Ellen.
Images: Kevin Winter/Getty Images Entertainment; Giphy (5)