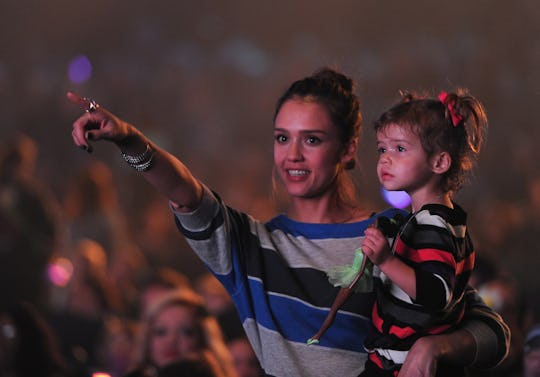 Alberto E. Rodriguez/Getty Images Entertainment/Getty Images
5 Times Jessica Alba Respected Honor Warren's Fashion Decisions & Helped Create Her Style
Plenty of kids love to explore their parents' closets, trying on dad's tie or clomping around the house in a pair of heels eight sizes too big. But Jessica Alba is an actual style icon, and 8-year-old daughter Honor Warren is one of the few people in the world who may actually get to raid her mom's wardrobe. As an actor and founder of The Honest Company, Alba's look segues easily from red carpet glamour to boardroom-ready chic. Now, Warren is beginning to pick out her own outfits. Though she's influenced by Alba's sartorial expertise, Honor Warren's fashion decisions show that she's developing a style all her own (with her mother's blessing).
Warren started to curate her own ensembles early on. Alba told People that Warren's look is stunningly sophisticated for someone so young. Though she was surprised by Warren's love of "heels and dresses," Alba seems to find it fascinating that she and her eldest daughter have similar taste: "For sure I see a mini me. I was a tomboy when I was a kid. Honor is like me grown up. It's so bizarre." Warren may not be big enough to borrow most of her mom's clothes yet, but she's already influencing her younger sister's fashion choices: 5-year-old Haven Garner gets her hand-me-downs.
Whether she takes after her mom or forges her own stylish path, Warren is already offering some serious fashion inspiration for kids everywhere:
Happy Birthday!
Back in 2013, Alba captioned this Instagram photo, "Today 5 years ago my sweet little angel Honor came into this world. I'm so blessed to be her mommy." Though Alba and Warren have similar hairstyles here, Alba opted for a black v-neck while Warren stood out in a spectacularly sparkly ensemble.
Royally Adorable
In 2012, Warren paired a pink Mulan nightgown with elegant white gloves. Alba wrote about the conversation they had:
"why do u have white princess gloves on" me "so I could be cozy in the morning mommy" honor "oh. Of course." me
Nail Art
Three-year-old Warren's manicure was spectacularly polished. "Honor's orange nails w chartreuse dots - I'm jelly of my 3 yr olds nail art," Alba wrote.
Eighth Birthday
Celebrating her eighth birthday, Warren went for a floral dress, silver shoes, and a pair of adorable ears. She's accompanied here by her sister, rocking a striped dress and yellow sweater. Dad Cash Warren captioned the Instagram photo:
Honor turned 8 today and I must say ... I'm super proud of her. She's badass and she has a heart of gold. I know this isn't about me but She makes me feel like I'm not doing that bad of a job. Happy Birthday.
First Day of School
Warren started third grade in style. Alba's and Cash Warren's kids went back to school Tuesday, according to Celebrity Baby Scoop. Warren wore sporty shorts, blue high-tops, colorful socks, and a flannel perfect for fall. Haven Garner showed she's developing her own look, too: her pigtail braids and pink sneakers were delightfully playful for a first day of kindergarten. Cash wrote on Instagram, "Big things happening today for the two tiny occupants of Casa de Warren. Good luck!!"
Warren and Alba clearly share a strong relationship and a love of fashion; they even wore matching trainers once, according to the Daily Mail. But with mom's support, Warren is coming into a style all her own.