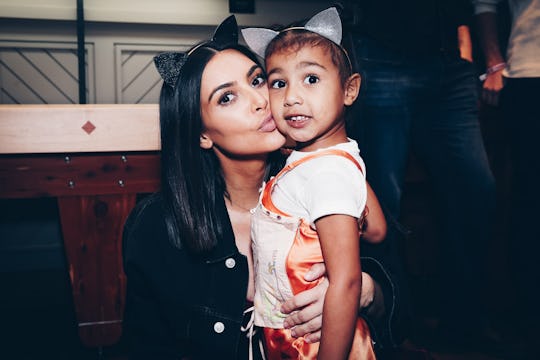 Handout/Getty Images Entertainment/Getty Images
5 Times Kim Kardashian Shut Down Mom-Shamers That'll Make You Say "YAAS"
Another day, another Kardashian-Jenner drama, right? For fans of Keeping Up with the Kardashians, this isn't necessarily a bad thing. (I mean, drama is definitely a driving force that keeps viewers coming back for more.) But for the reality star family members, I'd imagine it does get a bit old. Whether online strangers are bashing their nude photos, gossip magazines are starting far-fetched rumors, or social media followers are judging their parenting decisions, Kim Kardashian, Kourtney Kardashian, Khloé Kardashian, Kendall Jenner, and Kylie Jenner are often the targets of harsh criticism. And unfortunately, their children are fair game, too — and here are five times Kim Kardashian shut down mom-shamers who tend to offer unsolicited parenting advice and heavy doses of criticism.
You have to hand it to Kim Kardashian; she knows when to pick her battles. People will forever criticize her for posting sexy — and often naked — photos of herself on social media. Or posing in the nude for covers of magazines. Or for her infamous sex tape that initially catapulted her into fame. However, when it comes to her children, this mama bear is quick to clap back at the haters. And honestly, that's something I admire about her.
Let's take a look at a few of the times Kim K. publicly clapped back at mom-shamers who came after her kids, shall we? Like that time...
1. When People Thought Baby North's Eyebrows Had Been Waxed
Unfortunately, the mom-shaming and kid-bashing started early for Kim Kardashian. When North was still a baby, an adorable photo Kardashian shared on Instagram was criticized for a bizarre reason: Followers thought she had waxed her baby's eyebrows, as reported by the Daily Mail.
Kardashian took to Twitter to laugh of these ridiculous claims. "Do people really think I would wax my daughters [sic] eyebrows so young? Come on, I'd wait until she's at least 2 1/2!" she tweeted. Kardashian soon followed up this tongue-in-cheek post with, "I'm kidding!!! It's pretty sick for people to insinuate that I would wax my daughters eyebrows. They are thick, natural and amazing!"
2. When People Thought North Wore A Corset
When Kim Kardashian and Kanye West's eldest child, North, was spotted wearing a corset-inspired dress this past summer, people had a lot of feelings. That's because many thought Kim K. put her pre-schooler in an actual corset, as E! News reported.
An indignant Kardashian was quick to shut down these assumptions, taking to Twitter to set the record straight. "I would never put my daughter in a corset!" the KKW Beauty mogul tweeted. "It's a dress I bought that is a cotton fabric that laces up & looks like a corset! Just decoration."
Take that, mom-shamers!
3. When People Accused Kim Of Leaving A Hospitalized Saint To Go Party
Kardashian and West's 2-year-old son, Saint, was hospitalized in December while he was being treated for pneumonia. So when haters accused the famous mom of partying on New Year's Eve while he was supposedly still in the hospital, she shut that nonsense down immediately, as People reported.
"I haven't heard this BUT lets get this straight. I did not leave my son for one minute during his hospital stay," Kardashian tweeted on Jan. 3. "We were [at the hospital] Wednesday night to Saturday. NYE WAS SUNDAY NIGHT. People came over when he was already asleep for the night!" she added. "Don't even try me when it comes to my kids."
You go, mama!
4. When Saint Was Photographed In A Front-Facing Car Seat
Most people would look at this photo and be all like, "Aww, what an adorable little guy!" Still, plenty of people wondered why Saint's car seat wasn't in a rear-facing position, since he was still under age 2.
Although she didn't say much at the time, months after the pic was posted, Kim K. explained the situation. As BuzzFeed reported and as the video below explains — the toddler already met the height and weight requirements to be forward-facing, even if he technically wasn't 2 yet. So take that, car seat police!
5. When Kim Defended Using A Gestational Carrier For Baby Chicago
As E! News reported, Kardashian and husband Kanye West received a significant amount of backlash for how they brought their third child into the world. Many who are obviously unfamiliar with Kardashian's past difficulties during pregnancy and childbirth, assumed the decision to use a gestational carrier was made out of vanity. However, as Kardashian pointed out, both the choice and experience were anything but easy. "Having a gestational carrier is definitely different, but anyone who says or thinks it's the easy way out is completely wrong," the mom of three wrote on her app. She continued:
People assume it's better because you don't have to deal with the physical changes, pain or complications with delivery, but for me it was so hard to not carry my own child, especially after I carried North and Saint.
Clearly, Kim Kardashian is a pro by now when it comes to defending her family and her parenting style against the naysayers. The thing is, she shouldn't have to be on the defensive so often in the first place. But alas, with fame comes complete strangers judging you by a single photo — one precise moment in time — without having all of the facts. It's not fair, by any means. But at least North, Saint, and Chicago West will know that their mama always has their back and will always stick up for herself.
Check out Romper's new video series, Bearing The Motherload, where disagreeing parents from different sides of an issue sit down with a mediator and talk about how to support (and not judge) each other's parenting perspectives. New episodes air Mondays on Facebook.