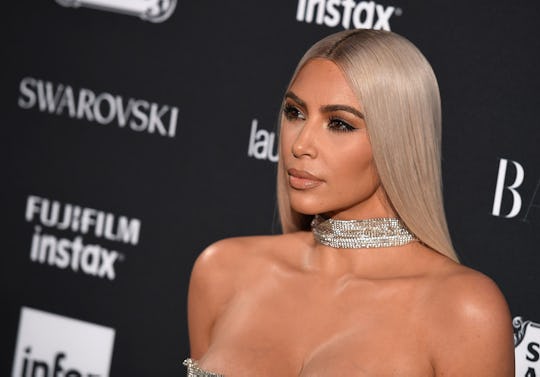 ANGELA WEISS/AFP/Getty Images
5 Times Kim Kardashian Was Super Honest About Motherhood & Pregnancy
Kim Kardashian may not yet be ready to confirm whether or not she and husband Kanye West are actually planning to welcome a third child into their family with the help of a gestational surrogate, and well, the truth is that it's totally her right to want to keep the details quiet. But it's not like the reality star mom-of-two doesn't already give the world regular glimpses into her life as a celebrity parent — and she not usually afraid to hold back. These five times Kim Kardashian was super honest about motherhood and pregnancy show that even when you're a mega famous reality star, having kids isn't all sunshine and rainbows and glamorous family photo shoots. While many celeb mamas might make motherhood out to be nothing but a picture-perfect good time, Kardashian isn't afraid to tell it like it is. And honestly, it's super refreshing.
The Kardashian family has literally made a fortune from sharing the intimate details of their lives with the world, but in contrast to her sister Kourtney, who makes pregnancy and motherhood look like a total breeze, Kardashian has been completely honest about the difficulties she's faced when it comes to getting pregnant, actually being pregnant, her delivery complications, and just straight up trying to be a good mom while balancing her demanding career.
Becoming A Mother Changed Her Life
Before you become a parent, it's practically impossible to anticipate just how much the experience will change you as a person. Even if you know that life will be different when you have a little one to care for, the truth is that, for many people, giving birth honestly makes you view the world in a different way than you did before. And that's something Kardashian says she totally understands.
According to E! News, Kardashian participated in a Twitter Q&A with T-Mobile in 2015, and couldn't help but gush about her then 1-year-old daughter, North West, calling her "my biggest achievement." Kardashian later reiterated that sentiment, according to People, and said,
Having my daughter is my biggest achievement. All the things you used to do, you just don't care about anymore. Your child becomes the [number one] priority.
But Having Another Made Life Real AF
Anyone who's ever had a child can tell you that, honestly, parenting can be hard. But when you have a second child? That's when you learn how crazy things can really get. According to a blog post she wrote on her website after giving birth to her son Saint in Dec. 2015, Kardashian got real about what it was like being a mom of two kids. After admitting that she was "up at 4 a.m., pumping and delirious," she wrote, "My mom would always say, about having kids: 'One is like one, and two are like twenty.' I never really understood that until now."
Part of the difficulty, of course, is that, logistically, trying to meet the needs to two different children with two sets of totally separate needs, is majorly challenging. And while having a newborn is usually the part that most people assume would be tough, Kardashian said that, actually, it's way harder to have a toddler:
Of course, I expected it to be different, but, wow, it really is so hard! When I had North, all I did was feed and sleep. This time around, I get no sleep. Every waking second that I'm not with the baby, I'm with North. I actually think the harder parts aren't with the newborn but with the toddler! I feel like I go into overdrive to give my daughter attention and make her feel loved.
She's Not Entirely Sure About Having A Big Family
Kardashian may or may not be able to cross over into mom-of-three territory, but that doesn't necessarily mean that she intends to have a big family the way her own mother did. According to People, Kardashian said,
I grew up with a lot of siblings. I don't know if I would really follow in my mom's footsteps and have six. I think that's a little crazy. I don't know how they did it. They were in their twenties, so they weren't really thinking right.
And She's Not Actually A Big Fan Of Being Pregnant
Kardashian has been pretty open about the pregnancy complications that have kept her from being able to carry a third child herself — she suffered from preeclampsia and placenta accreta — but from the sounds of it, if she had been able to get pregnant again, it probably wouldn't have been very enjoyable. According to The Daily Mail, Kardashian told Ellen DeGeneres in 2014 that, while she was so happy to be a mom, she found actually being pregnant to be kind of awful:
The pregnancy, I wouldn't really wish that upon anyone. Anyone. It's all worth it in the end, so I would definitely suffer through that, but pregnancy was not a good experience for me. At all.
It wasn't the only time, though, that Kardashian admitted she wasn't a huge fan of pregnancy. According to E! News, Kardashian told Ryan Seacrest in 2013 that being pregnant was far from what she had been expecting:
I was waiting for this amazing experience where I can just do whatever I want, eat whatever I want, feel great ... and it hasn't been that way. I've had a lot of pain everywhere.
She Also Found It Hard To Accept Her Pregnant Body
For some celeb mamas-to-be, pregnancy is a magical time to glow and be perfectly body confident (or it least it can seem that way in their Instagram posts). For Kardashian though, that was far from being the case, and she told Extra in 2014 that it took a while for her to feel comfortable as a pregnant woman, in part due to the constant public scrutiny over her weight:
There are maybe two or three covers just this week that say I am 200 pounds. I'm like, 'You are 60 pounds off here.' ... I'm not going to lie and be like, 'Oh, it's been amazing and I've adjusted great.' At the beginning it was tough for me when your body changes so much.
In 2015, Kardashian opened up to C Magazine about the struggle she faced while pregnant with North, and said it really took a toll on her mentally:
It was the worst! I couldn't help it, and everyone would say, 'She can't stop eating.' I delivered at 180, and they were like, 'She's 210 pounds. She's getting dumped because she's too fat' and all these ridiculous stories. It really took a toll after the fact, when I was losing weight. I gained 50 pounds, and it's tough to get it off.
I was dedicated, but also, it changed the way I viewed wanting my picture taken. Before I was always smiling, and so into being out and about. After I had the baby, I was like, these are the same people that made fun of me, and posted the stories that were so awful, calling me fat for something I couldn't control. I don't want to smile for them. I don't want to be out. Even if I was more confident, I just didn't feel like being that girl who was going to be smiling for every photo. It changed my mood; it changed who I was; it changed my personality a lot.
From the outside, Kim Kardashian seems like someone who probably has it all, and honestly, if she hadn't been so open about the totally-normal struggles she's faced while pregnant and as a mom-of-two, it'd be easy to assume that everything had been totally easy and wonderful. But the fact that she's able to speak honestly about her experience is super validating, as it lets anyone else who's struggling know that even when pregnancy or motherhood looks easy or glamorous, the reality can still be very, very different.