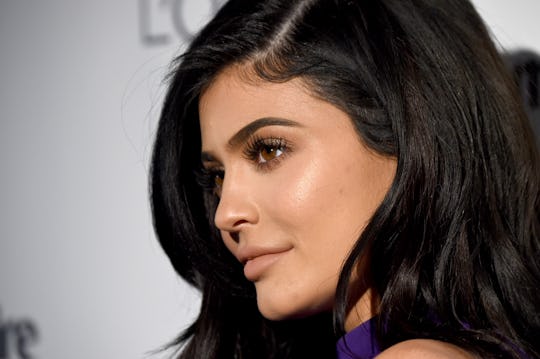 Frazer Harrison/Getty Images Entertainment/Getty Images
5 Times Kylie Jenner Has Trolled Fans About Pregnancy Rumors
It has been three months since TMZ first reported that Kylie Jenner is reportedly pregnant and expecting her first child with boyfriend Travis Scott. But since then, Jenner has neither confirmed or denied the rumors. Her silence is deafening and Jenner definitely knows what she's doing. There have been plenty of times that Kylie Jenner has teased fans about her pregnancy, and it's been a long road for anyone who wants answers ASAP.
TMZ first reported Kylie's rumored pregnancy on Sept. 23, but with almost one month left in 2017, you have to wonder if Jenner will say anything about the rumors by the end of the year. People believe there have been plenty of signs that point towards Jenner being pregnant, but there are just as many signs that she definitely isn't (chief among them being that she hasn't confirmed it). Instead of asking fans to leave her alone or flat out denying the rumors altogether, Jenner has taken to social media to troll her fans, or leave little clues that could suggest she might be pregnant — at least if you read between the lines. Here are all the times Jenner has trolled fans about her pregnancy.
The Time She Said She Was Thankful For Her "Little Babies"
Jenner does have a lot to be thankful for — after all, she has wonderful friends, a loving family, and a successful cosmetics line. But in a post on her website this Thanksgiving, Jenner mentioned one thing that she was thankful for that had everyone a little suspicious. "Last but not least...my little babies!," Jenner wrote on her blog, according to InStyle.
Unfortunately, Jenner was not referring to her reported pregnancy, but was instead giving a special shoutout to her dogs, Normie, Bambie, Harlie, and Rosie. Dogs can babies too, I guess.
The Time She Posted A Lot Of Pink
In the beginning of November, Jenner posted a photo of her very pink nails and pink butterfly rings with the caption "photoshoot" to Instagram. Some thought Jenner was alluding to a sex reveal photoshoot and that — obviously — Jenner meant that she's expecting a girl, according to People. And, butterflies hold a significant meaning to Scott and Jenner. But it appears that it was probably just another way for Jenner to tease fans about her reported baby and the baby's sex.
Some also thought Jenner was teasing the sex of her rumored baby when she Snapchatted Kylie Cosmetics phone cases in October. In the snaps, Kylie held phone cases in the colors pink and blue and asked fans what color they liked the most (but Jenner said she preferred blue).
The Time She Posted Some Suspicious Song Lyrics On Snapchat
In early October, while Jenner was lounging pool side she captioned a Snapchat photo with words that were a little too specific. According to Mirror, Jenner captioned the snap of herself, writing "nothing is gonna hurt you baby." Unfortunately for fans, according to Mirror, that line is actually a lyric from the song "Nothing's Going To Hurt You Baby" by the band Cigarettes After Sex, which she played in one of her snaps. It wasn't actually her talking to her rumored unborn child. Sigh.
The Time She Teamed Up With Khloé To Talk Babies
Not only is Jenner being coy, but her older sister Khloé Kardashian is, too. Khloé is reportedly pregnant with her boyfriend Tristan Thompson's baby, according to People. But like her younger sister, she isn't saying anything about it, either.
So, when the two joined forces to talk about Khloé's collaboration with Kylie cosmetics, in October, they addressed the elephant in the room — their "babies." But according to InStyle, the babies they were referring to was their collection of lipsticks "We created them together," Khloé said. "It's our baby together, we have eight!"
"We have so many babies, who knew?" Jenner jokingly asked.
Every Time She Took A Photo From The Waist Up
Jenner loves social media just as much as every other 20-year-old does. But since the news first broke, all of her Instagram pictures have one thing in common — they're taken from above the waist. By hiding her waist in the photos, it is impossible for fans to come to a conclusion as to whether she is pregnant, according to MTV. Additionally, according to Elle, since the news of her reported pregnancy broke, Jenner has been wearing "super baggy t-shirts." Fashion trend or troll?
Until Jenner flat out says anything about her rumored pregnancy, it is impossible to know whether she was teasing fans or trolling them with these "hints" — if you could even call them that. However, it is clear that Jenner is having a little fun with the suspense.
Check out Romper's new video series, Romper's Doula Diaries:
Watch full episodes of Romper's Doula Diaries on Facebook Watch.