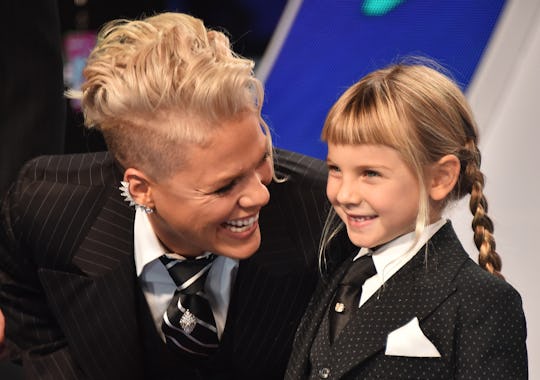 Frazer Harrison/Getty Images Entertainment/Getty Images
5 Times Pink Totally Owned Mom-Shamers
No matter how hard we try, it seems like no one can fully escape the wrath of mom-shamers in the age of social media. Breastfeeding? Great! Just don't feed your child in public because it might offend someone. Formula-feeding? You must not care about your child's health, or didn't try hard enough. But at least no one has to stare at your bare breast. Sleep training? How selfish. Your child will surely be scarred for life because you allowed him to cry it out. Co-sleeping? What a lazy parent. Your kid will never learn to self-soothe and will still be sleeping with you when he's 12. (See what I mean? We just can't win.) Unfortunately, famous parents are targets for criticism even more frequently than the average Joe — because I think sometimes, anonymous online commenters forget celebrities are actual people, too. Here are five times Pink totally owned mom-shamers, proving that she's the epitome of #momgoals.
If you need a refresher on the singer's current family situation, Pink and her husband Carey Hart welcomed their first child— a daughter they named Willow — back in June, 2011. They welcomed a son, Jameson, in December, 2016. Living up to her badass reputation, Pink hasn't taken sh*t from anyone when it comes to criticism of her parenting.
1. When She Posted A Photo Of Reheating A Cup Of Coffee In The Microwave While Pregnant
According to HuffPost Parents, Pink posted a photo of herself when she was pregnant with her second child that elicited a number of different mom-shaming comments. The photo in question was of the mama-to-be sitting on her kitchen floor while warming up her cup of (decaf) coffee in the microwave. Cue: Wave of unsolicited advice and criticism. "Don't use microwaves! Bad for u," wrote one commenter. "Please don't stand in front of microwave with baby belly," added another. Remarking on the singer's beverage of choice, another commenter wrote, "Three doctors told me coffee is coffee, decaf or not ... Feeding addictive stimulants to an unborn baby. Well, that's your choice ... I just stayed away from anything that may disturb my baby's growth." Two days later, she shared an article from Scary Mommy on Twitter, writing, "This was a really good laugh. Enjoy over a cup of coffee." Shortly after, she added, "Uh oh. Now I'm a mommy shamer shamer." LOL!
2. When People Try To Shame Her For Breastfeeding In Public
In 2012, Pink appeared on The Alan Carr Chatty Man Show, where she discussed an encounter she had while breastfeeding her daughter, Willow, in public. "I had a cover on and this guy walks by, and he was like, 'Ughhh.' He was just disgusted," Pink told the British talk show host, according to TODAY. "I was like, 'You didn't get enough hugs when you were little,'" she said. Carr asked Pink whether she is "one of those militant breast-feeder women," breastfeeding in public — almost daring someone to say something. "I do. I do on purpose," she replied. "I think breastfeeding is healthy and natural and it's a comfort to my baby." Yeah, I'd think twice before even looking at this mama the wrong way while she's feeding her baby in public.
3. When She Shared A Photo Of Herself Baby-Wearing While Cooking
In July, Pink was shamed for posting the above photo to Instagram, according to POPSUGAR. In the shot, the busy mama appears to be cooking a meal while baby-wearing her infant son. "Cute photo but please don't cook wearing the baby. I've read some really horrific stories about terrible accidents that have occurred doing this," one follower warned. Another wrote, "Personally I wouldn't hold my child in front of me while cooking, I'd hold them to the side away from the flame and anything popping up at me but that's her child and if an accident happens that's hers to go through." Guess what Pink did in response? She said nothing. She didn't respond because she literally couldn't even entertain the idea of humoring the concern-shamers. You go, mama!
4. When She Shared A Photo Of Her Daughter Riding A Motorbike With Her Husband
Back in 2013, Pink clapped back at the online criticism she received for photos she posted on Instagram of her daughter and husband riding on a motorbike. (Never mind that Hart happens to be a professional motocross motorcyclist and racer.) Pink also documented the daddy-daughter bonding time via Twitter, where people were blasting the parents for allowing the young child to participate in such a dangerous activity, according to Us Weekly. The mama bear quickly shut down the shamers by tweeting, "If any of you have more experience on a bike than my husband, then I will listen to your opinions on how he should take my daughter for a ride. I can't promise I will care, but I will listen none the less."
5. And Instead Of Allowing The Shamers Get To Her, She Posts A Video Of Her Son On A Skateboard
The past criticism over her daughter riding a motorbike didn't stop her family from sharing another video — this time, of her son, Jameson — taking a riding on a skateboard. Instagram followers criticized the family for how unsafe they thought it was, according to HuffPost Parents. Because clearly, the 10-month-old was doing extreme stunts on the skateboard at exactly 0.5 miles per hour. *Eye roll* "He should be wearing a helmet, this is so dangerous," one person commend. Another Instagram users wrote, "Wow, that is unsafe. No helmet?"
It's clear that Pink gives zero f*cks about what others think of her parenting — and honestly, I love her for that. She refuses to allow others dictate what she will and will not do when it comes to her children. Yes, sometimes she claps back at the shamers. (And it's awesome.) But she's perfectly fine with letting her silence speak for itself, too. And as a mom of three, I think that's even more badass.
Check out Romper's new video series, Romper's Doula Diaries:
Watch full episodes of Romper's Doula Diaries on Facebook Watch.