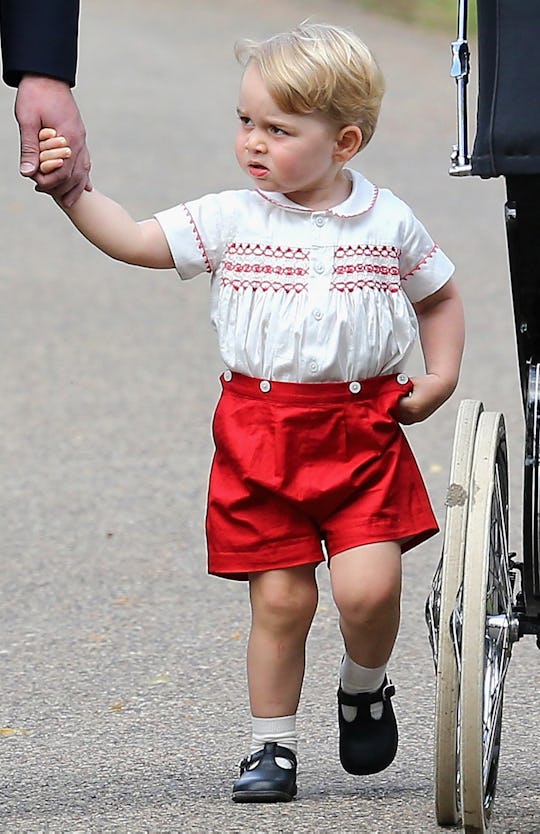 Chris Jackson/Getty Images Entertainment/Getty Images
5 Times Prince George Was Just Not Having It
Over the past few months, several huge milestones have gone down in the royal family. The birth of little Prince Louis in April, the marriage of Prince Harry and Meghan Markle in May — it's been a wild ride. Because of these back-to-back events, the world has gotten to see Prince George and Princess Charlotte more often than usual. And each time, the young royals have managed to totally steal the show, either with their adorableness or their totally "over it" behavior. And because the latter is often way more relatable, here are five times Prince George was just not having it and the world loved every minute of it.
Honestly though, it must be tough being a royal kid. Sure, you have a super cool title, like "His Royal Majesty The Prince." But along with that fancy name comes great responsibility. I mean, Prince George is technically third in line to the British throne, according to People, after his grandfather, Prince Charles, and his father, Prince William. So from birth, he's basically been groomed to become the king. But that doesn't mean that Prince George doesn't have normal little kid feelings and tendencies. He's human, after all.
So without further ado, I give you five times when he was totally over this royal business.
1. That Time He Was *So* Over It At The Royal Wedding
Following the May 19 nuptials between Prince Harry and Markle, the royal family waited on the steps of the chapel to watch the newlyweds emerge. Prince William, Kate Middleton, and their two older children were standing together — and Princess Charlotte was adorably waving. However, Prince George mostly remained hiding behind his father's legs, as Metro reported. (It's OK, George. I'm easily peopled-out, too.)
2. When He Carried On A Full Conversation During The Royal Wedding
Again, on May 19, Prince George and Princess Charlotte were both official members of the royal wedding between the now Duke and Duchess of Sussex, as CBS News reported. Their duties involved walking down the aisle behind the bride — and the entire time Prince George was walking the aisle, he was carrying on a conversation with a fellow page boy. Because you know, it was just like any other day for the prince. It was both adorable and hilarious.
3. When He Was Totally Over The Trooping The Colour
During the 2017 Trooping the Colour, the royal family was standing on the balcony of Buckingham Palace — as they traditionally do — when at one point, Prince George appeared to be completely over the grand affair, as Express reported. Because the royal family is under the spotlight, plenty of cameras caught the prince resting his bored head on his hand.
4. As He Was Heading Off To His First Day Of Preschool
In September 2017, Prince George embarked on his first day of preschool at Thomas's Battersea, as CNN reported. Photos of the prince holding hands with his father, Prince William, as they walked toward the school plastered news outlets on that day. And from the looks of it, Prince George clearly wasn't impressed with beginning this new chapter in his life.
5. When He Was Caught Pouting in Poland
In July 2017, Prince George and Princess Charlotte joined their parents on a royal tour of Poland and Germany. After arriving in Warsaw, Poland, the then 3-year-old prince was photographed pouting while holding his father's hand, as Vogue reported. (Don't worry, George. I would have made the same face if I were forced to mingle with important strangers I couldn't care less about, too.)
And there you have it! Sure, Prince George may be the future monarch. But he's still just a regular 4-year-old kid at heart. Although the young prince will continue to be groomed for his royal duties, it's to be expected that he'll get overwhelmed by crowds, long days spent on royal tour, and pretty much any official event not specifically intended for preschoolers. And that's perfectly OK. Because he has a right to just be a kid before the kingly duties kick in.