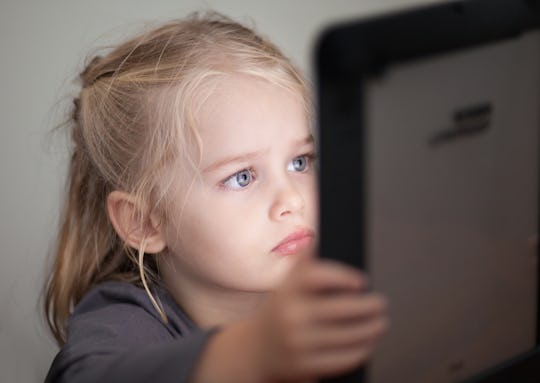 Jandrie Lombard/Fotolia
5 Times When You Should Pay Attention To Your Kid's Screen Time
As technology has evolved and expanded over the last decade, kids are spending more and more time staring at screens. My kids, for one, are drawn to flashy, exciting games and streaming videos which, let's be honest, are sometimes my saving grace. But while screens can be convenient, there are times when you should absolutely pay attention to your kid's screen time. Turns out, you can definitely have too much of a good thing.
According to a 2017 kid's media survey provided by Common Sense Media, children ages 8 and below are averaging over two hours of screen time a day, usually on a mobile device or tablet. The same study found that in 2011, only 41 percent of families had a mobile device. Now 95 percent do. In 2011, less than 10 percent of families had a tablet. Now almost 80 percent do. And while some studies suggest the type of content your child consumes is more important than the number of hours they spend on a device, there are a few signs that could let you know the amount of time your kid holds an iPad is becoming troublesome.
The American Academy of Pediatrics (AAP) recently updated their screen time guidelines, reporting that screen time restrictions are outdated. Instead, the AAP is calling for more research to definitively account for the various types of media exposure our children consume. In other words, and according to Oxford University's Internet Institute and Cardiff University study, how your kids are engaged in digital technology is more important than how long they're engaged. But if you start noticing a few of the red flags below, it may be time to re-think the amount of time you allow your kids to be on screens.