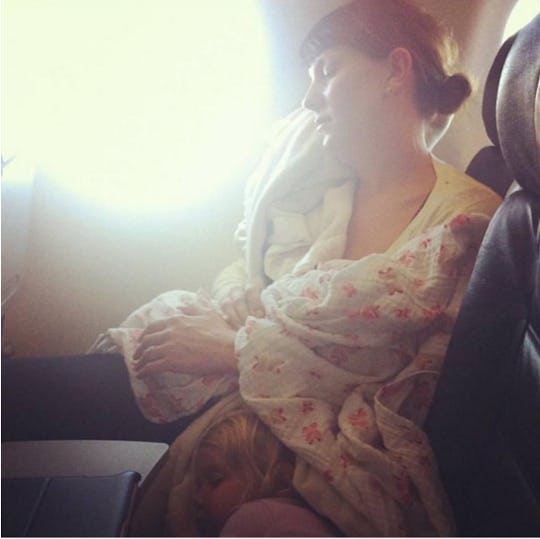 5 Tips For Breastfeeding On A Plane, Because Nursing Only Gets Tougher At 30,000 Feet
Breastfeeding anywhere in public can be stressful. You're worried about covering or not covering, extra milk, finding a good space. But preparing to breastfeed on a plane can double the anxiety. Not only do you have all the same concerns, but you're stuck in a small space, thousands of feet in the air.
According to the Center For Disease Control and Prevention, 80 percent of American moms breastfed their babies in 2014. So if even a small percent of those moms flew during that time, that's a lot of breastfeeding on a plane. Which means a lot of women have tried to finagle a nursing cover while strapped to a seat and attempting not to knock over their neighbor's complimentary soda.
I've personally encountered this nursing dilemma, but I know many moms who have. And their advice for nursing in the skies — be prepared. You want to be able to board the plane with your baby and nurse in peace. Traveling with a baby is tough enough, and you shouldn't waste time worrying whether you packed everything you need, if you'll have enough space, or how you might react if someone complains. Breastfeeding on a plane will feel a lot less intimidating once you've got your bases covered. Here are five tips to help you prepare for breastfeeding on a plane.