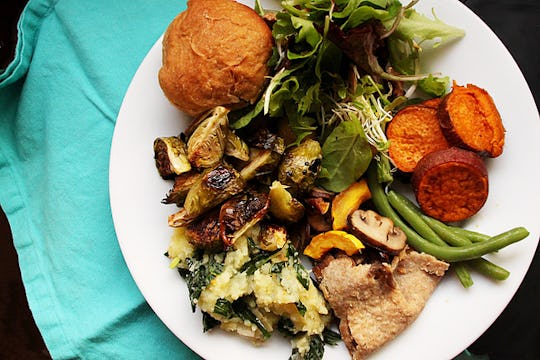 5 Tips For Making Thanksgiving Dinner For Two So You Can Avoid Eating Turkey For A Month
Traditionally, we think of Thanksgiving as a giant feast fit to feed a houseful of relatives. A 20-pound turkey roasting in the oven, casserole dishes full of sides and more pies than you know what to do with. But how can you cut down on the meal when you're just cooking Thanksgiving dinner for two? Maybe you're keeping it low-key with your SO, maybe it's just you and your kid celebrating this year, or maybe you and a friend don't feel like traveling and are doing turkey day as just you guys. Either way, you don't need to make an entire feast for just the two of you.
Arguably the best part of Thanksgiving meal is the variety, so the trick to serving two is portion control, not cutting back on types of fare. Sure, you'll have to forgo some elements of a meal for 30, because there's no way you'll need, want or be able to enjoy 16 different dishes unless you have one bite of each. 
With a lot of recipes, it'll be easy to just cut everything down to a serving size of two. But for other elements (ahem, the turkey), just simply halving things won't quite work. Instead, get a little creative. Oh — and expect tons of left overs. (Score!)