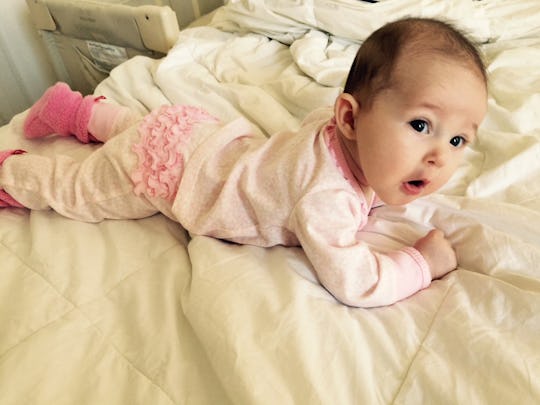 Kate Miller
5 Things You Should * Never * Do During Tummy Time, According To A Pediatrician
I consider myself a pretty low-key mom, but when it came to tummy time, I was literally whipping out my phone's stop-watch and timing how many minutes my little one was logging. I was a full-on "Tummy Time Tiger Mom." Like me, you've probably heard about the value of tummy time, but are you familiar with the things you should never do during tummy time?
Before we get into the tummy time "don't" list, let me first acknowledge that some babies will go along with tummy time willingly, and others will cry their heads off and make you feel like you're putting them through legit torture. My first daughter was the former, my second the latter, so I've been there. Trust me. But even if your wee one goes into hysterics at the mere site of the floor, just know that you're doing him or her a real solid. Tummy time helps your baby develop the strong back and neck muscles they'll need to accomplish other milestones like crawling, sitting, and walking, Dr. Richard A. Honaker, MD explains in an interview wth Romper.
I interviewed Dr. Honaker, the Senior Medical Advisor for yourdoctors.online, and Dr. Jarret Patton, pediatrician and children's health advocate, to find out what the big no-nos are when implementing tummy time. Here are the top five things you need to know.