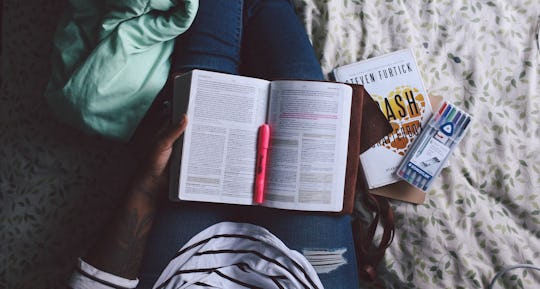 5 Very Easy New Year's Resolutions That Every Single Mom Can (And Should) Commit To
Who to kiss at midnight? For many 20-somethings on New Year's Eve, this is the biggest dilemma. As a single mom, I generally choose to kiss my sleeping daughter's forehead at midnight, so figuring out who to kiss at midnight on New Year's Eve is one 20-something struggle that I don't have to deal with. Being a single parent is a sometimes lonely business but it's got some good company perks: All the snuggles belong to me, and I have a built-in excuse for avoiding exhausting social obligations like going out on New Year's Eve anytime I want (which is even better since I totally could go out anytime I want — hello, babysitters — but my friends don't really get that so I can always decline sans judgment). But one hurdle of jumping into a New Year that single moms are not exempt from? Resolutions. In fact, single moms might be the people who make the biggest, most impossible vows to do things differently in the coming year, and honestly, I think we need to revisit how we're approaching this whole game.
So, what does a single mom choose for a New Year's resolution? Since our lives tend to revolve around our kids and the things they need most, perhaps we can set New Year's resolutions aside as something that belongs to us alone. Maybe, just maybe, we single parents of beautiful babies, cuddle-able children, and terrific teens can take a brief moment in the New Year and choose to change something that we want changed. These might seem like the type of resolutions that anyone can make, regardless of whether they're a single mom, or a mom at all, but these are resolutions that would both be particularly rewarding for single moms and might be more challenging to achieve (since, frankly, finding extra time for anything is a bit of a nightmare when you're flying solo on the parenting gig).
In the past, I've taken my mother's approach and set an attainable goal. Her standard is to quit smoking. Since my mother has never smoked a day in her life, she asserts that "quitting smoking" is one goal she can reasonably achieve. That might sound silly, but I get it: Give yourself every possible opportunity to start the year with a win. This year, I'm going for a slightly more challenging list of goals, but still keeping things within the realm of total attainability. Here's what I'm aiming for (and I think all single moms would be well-served to join me):