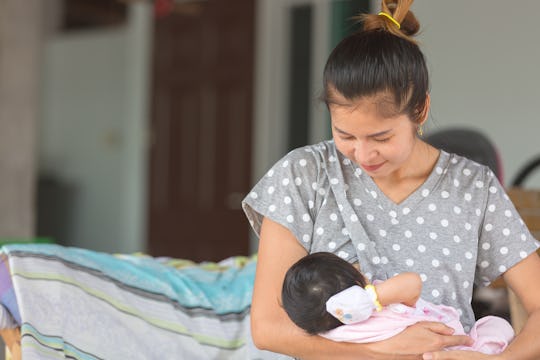 Shutterstock
5 Ways Breastfeeding Can Actually Help With Your Anxiety, According To Experts
Breastfeeding is a personal choice. Full stop. And while doctors and researchers have found the benefits to be plentiful (for both you and baby), let me say first that while this post will detail the ways breastfeeding can help with anxiety and make your life less stressful, please know this is also a judgment-free zone. Making the decision to breastfeed (or not), or perhaps dealing with the painful realization that you may not physically be able to breastfeed, is no one's decision or business but yours.
Now that we have that little PSA out of the way, let's get real for a moment. Motherhood is hard, and early motherhood (especially for first-time moms), can be particularly stressful. While the health benefits of breastfeeding, namely protecting against allergies, eczema, and viruses through easily digestible proteins in breast milk are well-known, there are also practical ways that breastfeeding can make the early days of motherhood less stressful.
In an interview with Romper, Krystal Nicole Duhaney, a registered nurse; certified lactation consultant; and creator of Milky Mama, a leading all-natural lactation treat company, gives her thoughts on why breastfeeding has the ability to make life less stressful for new moms.