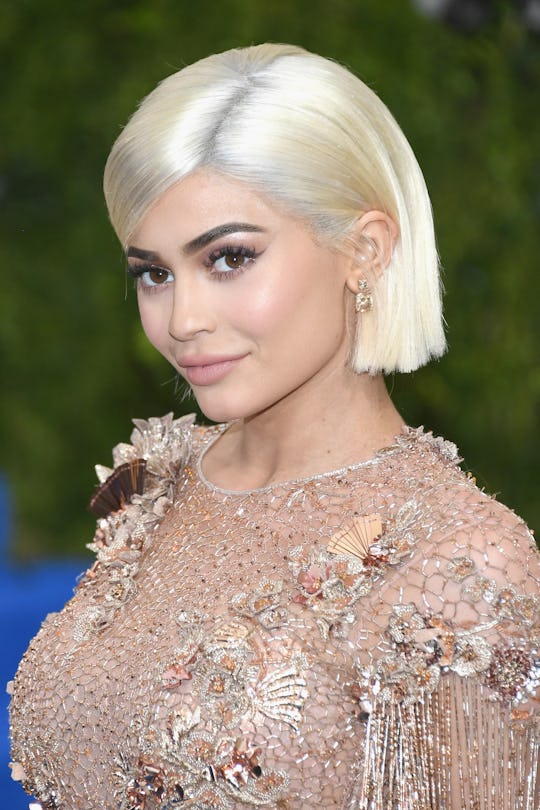 Dia Dipasupil/Getty Images Entertainment/Getty Images
Here's How Kylie Jenner Could Still Reveal Her Rumored Pregnancy
As you may have heard, Keeping Up With The Kardashians star and KarJenner family member Kylie Jenner is rumored to be pregnant with her first child. Her sister, Khloé Kardashian, was also reportedly pregnant up until about a week ago, when she finally confirmed her pregnancy. But Kylie still hasn't officially announced that she's pregnant, and fans are getting impatient. She wasn't even featured on the family's annual Christmas card, where people were sure the pregnancy would be confirmed, so what are some other ways that Kylie could still reveal her rumored pregnancy? She has plenty of chances to do it, as long as her due date isn't tomorrow or something.
Many KUWTK fans and general Kylie followers expected a photo of Kylie with her baby bump in the final, full family Christmas card posted on Twitter by her sister, Kim Kardashian West, according to Jezebel. But Kylie wasn't on the card at all, with or without a pregnant belly, much to the dismay and confusion of fans.
The "Twitterverse" and other fans on social media were very unhappy about the omission. To recap, members of the Kardashian/Jenner family took turns revealing photos from their holiday card each day from Dec. 1 leading up to Christmas, according to Us Weekly. So what better way to reveal a pregnancy than with a shot of an obviously pregnant Kylie come Christmas Day? But it didn't happen, and now fans are pondering ways Kylie could still reveal the pregnancy — if she even will before she gives birth.
With A Birth Announcement
The truth is, if Kylie is definitely pregnant, she might keep the whole thing quiet on her end until she actually gives birth. That would be a real challenge, especially with eagle-eyed fans checking every Snapchat, Instagram post, and public appearance for signs of a "belly" from Kylie every single day.
But if she pulls it off, Kylie might choose to reveal her pregnancy by revealing the baby itself when its actually born. It would mean Kylie had total control over what news of her pregnancy got out — namely, that the news didn't get out at all until there's a baby to show for it. I think it could be kind of brilliant, actually.
With A New Year's Announcement
Maybe Kylie decided she didn't want to reveal her pregnancy in her family's Christmas card and instead wants it to be a separate event entirely. In that case, there's another special holiday coming up very soon she could use to confirm the news — and it's a holiday all about new beginnings.
The writer was sort of joking, but over at Jezebel, they suggested that Kylie could confirm her pregnancy on New Year's Eve or New Year's Day. It seems fitting to me, so why not?
With A Post On Her Due Date
Kylie's supposed due date is Feb 4., according to a source who spoke with OK! magazine. That's obviously not completely verifiable, but whenever her due date is, Kylie could choose to announce her pregnancy on that day, especially if the baby isn't here yet.
Can't you just see it? A cutesy Snapchat with a message like "Any day now #duedate," and Kylie's "baby belly," finally revealed to the world.
Through A Valentine's Day Message
Or maybe Kylie isn't quite that far along, and she'll be pregnant for Valentine's Day. A Snapchat or other social media post coinciding with the holiday would actually be kind of a lovely way to reveal the news to her fans and the world.
On Social Media
There's always the possibility that if Kylie is in fact pregnant, she might choose to reveal it on social media on any old day. She might not pick a special occasion to do it at all.
After all, Khloé revealed her pregnancy news via an Instagram post, Metro reported. People initially thought she'd make the announcement using the family's Christmas card too, but she didn't. Kylie could do something similar, and decide to make her own announcement on social media with no particular holiday or other special day attached to the post. She's kind of a master with social media, after all, so it's not unlikely that she has a perfect plan in place already.
The fact is, we really have no idea how Kylie could still reveal her alleged pregnancy. She might not be pregnant at all. Or she might not reveal that she was ever pregnant until the kid is several months old or something — though I doubt the rest of the large KarJenner clan would be able to keep the secret of an adorable new grandbaby or niece/nephew for that long.
Check out Romper's new video series, Romper's Doula Diaries:
Watch full episodes of Romper's Doula Diaries on Facebook Watch.